XR Solutions That Improve Business Fields
October 21, 2022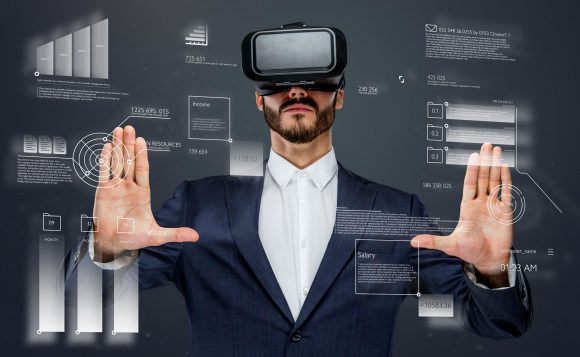 In recent years, the extended reality is gradually becoming popular in different enterprises, including IKEA, BMW, Adidas, etc. In general, modern companies use three main types of XR: virtual, augmented, and mixed reality. 
VR allows a user to immerse themselves in a digital world using a headset. In augmented reality, you can place 3D objects into the physical world. And in mixed reality, there are more possibilities to interact with these objects both in real and virtual space. More detailed information about the difference between VR, AR, and MR you can read here.

Many enterprises which want to apply XR see some perspectives in these technologies. With extended reality, you can improve interaction with customers, provide a more  realistic presentation of an item online and create a safer and more effective working process. According to Statista, the XR B2C (business-to-customer) market size in 2022 is estimated at 25,2 USD billions. 
Industries That Are Affected by XR The Most
Mainly, the extended reality is mostly used in the following fields:
Retail;

Marketing;

Architecture;

Show business;

Healthcare;

Many other fields. 
Sell Your Products With XR
One of the most popular ways to sell items are virtual shops and AR apps that allow trying products before buying. According to statistics by PC Magazine and Statista, 61% of customers said they wanted to visualize their clothes before purchasing. Another 54% of respondents wanted to know how large purchases, like furniture, would look like before buying it. 
There are some fields, where extended reality can be applied in retail.
Virtual try-ons. Famous Ukrainian online cosmetic shop Notino designed its own smartphone app, where you can both buy an item and try on its digital version with  "virtual mirror" feature. Using selfie mode on a gadget camera, a user can find out how a shade of lipstick, blushes, eyeshadows, and other cosmetic products will look like.
Speaking about the use of VR by famous retail network. VR Furniture Visualizer by IKEA and XR Labs is the bright example of it. This exhibition is a part of physical shops, where every customer with VR headsets can design their own digital room. At the beginning, a user types in  their contacts, chooses room type and size, and starts customizing it, from walls to furniture and decorative items. VR Furniture Visualizer is available for North Africa and Middle East shops only.
Virtual shops. For example, the very first virtual shop was opened in Malaysia. VI-Mall Malaysia allows VR headset users to make virtual shopping in 150 shops, including large grocery store on the first floor. On the second floor, you can visit a digital cinema, where you can buy tickets and watch a movie in a cinema hall. On the third floor, you can see an event hall. A VR headset user can walk between the mall floors, using virtual stairs.
Here you can read more information about XR in retail.
Attract New Customers With XR Marketing
Extended reality allows companies to encourage new and regular customers to their products and services with interesting and non-standard ways. In this case, you can not only create a recognizable brand mascot, but also make it interactive. It can draw attention of your clients and business partners during conferences and presentations.

IT company Wylog designed its own corporate robot-shaped AR mascot in a mobile app. To activate the robot, you should point the camera to the horizontal plane, where you can place the digital model. The robot can walk, jump, hide, and roll into a ball. There's also a function to change the mascot's color in the app.
Another way to apply XR in marketing is an interactive virtual advertisement. Adidas used VR experience to promote sports clothes and shoes collection TERREX. Here, in a VR headset user can climb the Delicatessen route and follow famous climbers Delaney Miller and Ben Rueck. The Delicatessen route on Corsica island is considered to be one of the hardest mountain route. With Punta du Corbi peak, the Delicatessen maximal height is almost 1400 meters above the sea. 
A different successful example of VR advertisement is Happy Goggles by McDonalds. It's a virtual reality headset you can make from Happy Meal package. The goggles have a mobile ski game Slope Stars, released with the support from Sweden National Ski Team. This Happy Meal set had limited-time release in 14 Sweden restaurants.
"To celebrate the 30th anniversary of the Happy Meal in Sweden, McDonald's Sweden has developed Happy Goggles. By re-folding the Happy Meal box, customers can create a pair of virtual-reality glasses which makes it possible to experience virtual reality with a smartphone", McDonalds said in an official announcement.
XR Makes Building Projection More Comfortable
With the help of tools, provided by XR, you can simplify a building, room, and landscape designing. Also, extended reality gives architects a possibility to create a new project, considering the features of an area. And, with extended reality, you can fix serious issues in the early stages of a project.
Connec2 is a bright example of the virtual platform for architects. It extends a working space with virtual reality headset. In this platform, people interact with the help of digital avatars, that accurately recreate gestures and provide high-quality sound during speaking. Connec2 does not necessarily recreate a physical office. The virtual holodeck is both a place for workers to communicate and a space to thoroughly design a new architectural project.
In addition, there are some successful cases, when architects use augmented reality when they project new buildings. Therefore, with AR, you can consider the features of an area, where you want to build a house, and create more interesting and exciting presentations for colleagues and partners. DOF VR developed an AR app for making building projects and selling real estate. This app can show how a building would look both in the daytime and at night. You can also detach the digital model by layers, and develop and show every detail of the model. Using the gadget screen, the app gives the possibility to project 3D models on real estate magazine pages, on a 2D floor plan of the room, and other surfaces. In addition, using AR app, you can enter a digital version of a room with a smartphone or tablet screen.
Here you can read more about AR in architecture and design.
How To Promote Your Music and Reach Your Fans With XR
With extended reality, any singer or musician can provide an additional immersive experience for their performances and music videos. The more bright and memorable performance is, the more people will pay attention to an artist and their music. 

Katy Perry's live performance on American Idol is considered to be one of the loudest cases of using extended reality in show business. While she was singing her song Daisies, you could get an impression Perry got into a colorful dimension with moving walls and floating flowers. During the TV broadcast, more than 7 million people saw her performance. On YouTube, Katy Perry's live version of Daisies reached almost 3 million views.

The live show was created with the help of XR companies PRG Studios and Silent Partners Studio. According to the creators, all the digital elements showed up in real time and reacted to the movement of cameras and the singer herself on stage. The whole performance was filmed on a LED screen stage, interactive 3D projections were superimposed into.
"From a creative perspective, the actual look and feel of the piece was a deceptively difficult effect to achieve", said JT Rooney of Silent Partners Studios. "The graphics' solid flat colors and simple textures actually made it difficult to complete the illusion of making the physical LED [backdrops] disappear and magically combine with a virtual environment". 
Some singers also organize special VR concerts for headset users. This technology is used by famous rapper Post Malone. His exclusive VR performance for Oculus headset users was called Post Malone's Twelve Carat Toothache. A VR Experience was held on 15 July this year, as a part of his new album promo campaign. 
In addition, some modern pop singers want to support their own fans not with live performances only. For example, Ukrainian IT company Sensorama developed a mobile AR app for famous singer Tina Karol. With this app and smartphone, fans of the artist can sing and dance together with a digital version of their idol. 

Extended Reality Is A Key To Improve Healthcare
Extended reality also simplifies doctors' work in private and government hospitals. With XR, you can make fast and effective injections (AR device AccuVein, for example), diagnose a patient, and even perform complex surgeries. 
In Brazil, Rio-de-Janeiro, doctors managed to separate three-year-old conjoined twins Bernardo and Arthur Lima with virtual reality. Few months before the surgery, the doctors trialed the techniques, using twins' digital projections, based on CT and MRI scans. During the surgery, Brazilian specialists, in collaboration with colleagues from Great Ormond Street Hospital in London, worked in the same "virtual reality room", using VR headsets for more than 27 hours.

"In some ways, these operations are considered the hardest of our time, and to do it in virtual reality was just really man-on-Mars stuff",  said doctor Noor ul Owase Jeelani. 
Using MR headsets Hololens, specialists can easily diagnose patients, perform surgeries, and teach medical students. Like, for example, they do in Cleveland Clinic.
"So, let's say that we have a patient on the table, and we want to do some type of intervention. Using augmented reality, we can superimpose data onto that patient, see their CT scan or MRI", said doctor Karl West, director of Medical Device Development  Department of the clinic. 
"And putting them all together in, integrating them to really come up with this virtual, three-dimensional see-through model", said Frank Papay, the chairman of the clinic, and doctor of Dermatology and Plastic Surgery Department.
Also, virtual reality can be applied for the rehabilitation of patients, who survived stroke or serious injures. You can find out more about it here.
Extended reality has already found its place in many business fields, including architecture, marketing, healthcare, and retail.  Extended reality provides more possibilities for workers' training, bringing the audience to your own product, and simplifying the working process while creating new architectural projects.