Augmented & Mixed Reality
Qualium Systems creates Augmented & Mixed Reality Apps that move businesses to the next level of digital solutions thereby enriching the real world with digital data
Contact us
What we do
AR/MR Development
We develop custom augmented and mixed reality apps for a wide range of smartphones and smart glasses.
PoC and Prototyping
We help our clients verify business ideas or test experimental product concepts in the early stages by creating proof of concept or prototype.
3D Modeling
Our 3D design team creates optimized and detailed models and animations for your AR/MR apps.
Our General Approach
Custom combination
of methods and practices
There are no silver bullets and there is no single software development method that can be applied to every project with maximum efficiency. We achieve predictable and high quality results with an efficient combination of methods, processes, and practices for each particular project.
Multi-level quality control
We pay great attention to the quality control of a project. This includes, along with testing, taking into account many other aspects, such as code review, acceptance of work by the project manager, and control by the technical director.
Early risk detection and mitigation
We identify and handle all major risks at early project stages. The risk discovery and mitigation process is continuous and performed during the whole project life cycle.
Communication transparency
Efficient communication between the project team and project stakeholders is crucial for achieving project goals. At the project start, we create a clear communication with responsible contact persons and communication channels.
Control of project constraints
Your goals and priorities are the basis for our efficient management of project scope, cost and schedule (Triple Constraint model). We maintain the balance of these constraints during the whole project life cycle.
Continuous integration and delivery
We apply CI / CD practices for all our projects which allows us to achieve a high level of collaboration with stakeholders and software quality.
Technologies
Unity
ARCore
ARKit
TensorFlow
OpenCV
Vuforia
Supplemental expertise
Computer Vision
Artificial Intelligence
Spatial Computing
WebXR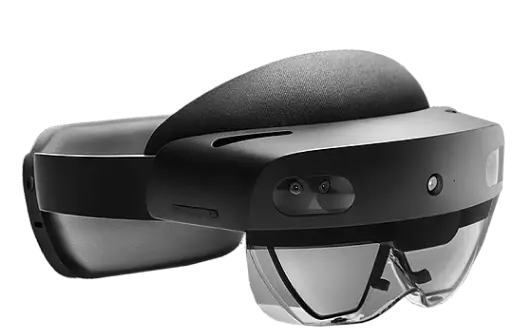 Development for Hololens 2
Based on the experience of cooperation with some companies in Europe and the USA, we offer the development of mixed reality applications for Microsoft Hololens 2 for corporate clients. HoloLens 2 was created with the core needs of the enterprise sector in mind for today's digital experiences. It brings fruit. More than a half of the Fortune 500 enterprises have purchased Microsoft HoloLens 2, according to data provided by Microsoft. As a result, productivity increases due to more precise actions and reduced restrictions on employee collaboration.
The future of the Augmented & Mixed Reality
Augmented & Mixed Reality brings together the real world and digital elements. If augmented reality makes it possible to superimpose other digital details on the real world, mixed reality, in turn, allows interacting with virtual objects.
Sales of augmented and virtual reality (AR/VR) headsets are expected to reach over 26 million units per year by 2023 (Statista)
The Augmented Reality market is projected to reach USD 88.4 billion by 2026 (Marketsandmarkets, 2021)
The number of mobile AR users is expected to grow to 1.73 billion by 2024 (Statista)
Industries
Engineering
The ability for engineers or designers to overlay digital 3D models on the physical world, expanding their ability to evaluate and improve designs
Manufacturing
Providing the necessary information or remote support, monitoring and diagnostic data to employees at the right time, which reduces the number of errors and increases their efficiency
Logistics
Assistance in optimizing warehouse navigation, proper sorting and packaging of materials, tracking various procedures
Marketing and sales
Improving the customer experience, visualizing complex products, demonstrating products in context of use
Human resources
Reducing the time of adaptation and training of new employees, eliminating the need for instructors. Individual approach to training
Education
Increase student engagement through 3D visualization and augmentation of physical books experience, simplification and gamification of information
Healthcare
Improving the learning process for medical students and optimizing approaches to performing operations and examining patients
Navigation
Optimization of the process of building routes without distracting attention from the road, which reduces the risk of getting into an accident
Retail
Providing buyers with additional information about products and promotions in real time
Real estate
The ability to visualize individual elements of space, entire buildings and conduct tours of objects
Need a different solution?
Why our clients trust us
Established In
Office-Based Team
Professionals In Our Team
More Than
Projects Completed
More Than
Of Repeat Customers
Rated 4,9 On