Augmented Reality Advertising: Enhancing Customer Experience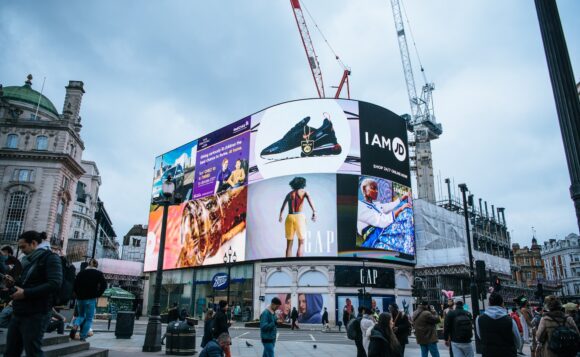 Augmented reality is a technology that superimposes digital 3D content in the real world. You can watch it using smartphones, tablets, smart glasses, and other devices. Digital objects are activated with markers (QR codes, images, physical objects, etc), beacons, GPS trackers, digital compasses, and so on.
Today, this technology is actively applied by marketers, as it helps to evoke emotional feedback from users of the product. For example, fans can get partially immersed in a setting of their favorite TV show, and online customers can see the chosen item and try it on themselves.
As the number of modern technology users continues to rise, so does the popularity of AR. Statista predicts that the number of AR technology users will be increased to 1.75 billion by 2024.
In today's article, we'll highlight the definition of AR advertising, its types, and some of the most successful use cases by various brands, like Snapchat, Disney, Netflix, Lacoste, and more.
Augmented Reality Advertising: Future of Marketing is Here
AR advertisement is about using augmented reality for brand or product promotion. 
You can read more about the basic principles of AR in our article about the difference between augmented and mixed reality. 
Interactive AR Ads: Engage Your Customers in a Whole New Way
Augmented reality can be applied for different types of advertisements, including 
outdoor advertisements; 

printed ads; 

advertisements on packages; 

promo campaigns for movies and TV; 

virtual try on. 
AR Advertising Goes Outdoors: Engaging Customers in Streets 
As a rule,  AR advertising is used for street campaigns: billboards and city lights with digital element activation markers for smartphones or tablets. 
Pepsi Max's Bus Shelter is an example of an outdoor AR advertisement. It's a bus stop with a built-in screen that demonstrates various AR scenes. While people wait for a bus, they see digital meteorites, alien ships, or underground monsters, that are superimposed on a real street in the UK. 
City Painter by Snapchat is another example of outdoor AR advertisement. Unlike the previous case, this app is developed for smartphones. A mobile device user "colors" city streets with digital paint. Using a smartphone screen, you can see the results of both your work and those of other "artists".
Print Comes to Life: Augmented Reality Advertising on Your Merchandise
This type of augmented reality advertisement is activated by markers, like QR codes and images, placed on printed promo products: posters, flyers, business cards, booklets, magazines, etc.
For example, the Net-a-Porter fashion brand augmented their PORTER paper magazine issue with AR illustrations that are activated by smartphones right on the magazine pages. With augmented reality, PORTER readers discover exclusive content and the possibility to order a chosen item from magazine pages through a smartphone. This issue of the magazine was developed in collaboration with The UK IT company blippAR. 
A similar function is also available for National Geographic printed magazine. Using a smartphone, a reader unlocks different 3D objects and animations on magazine pages.
Unboxing Your Brand: Augmented Reality Ads on Product Packages
In this case, a product package isn't just called to protect from outside influence. With augmented reality, a colorful and original package can be even more attractive for customers with the help of an AR experience.
Pizza Hut Pac-man AR Game is a bright example of an AR package advertisement. Every pizza package contains a marker that activates a classic video game Pac-man. But now it's in augmented reality.
Usually, for AR package ads developers implement WebXR technology, the one we discussed in our previous article. 
Experience Your Favorite Shows and Movies in a New Way with AR Ads
Augmented reality promo campaigns made for smartphones are drawing the attention of your movie or TV show's potential audience. A movie-based AR experience makes users mentally closer to their favorite movie heroes and attached to a movie or TV show. 
A bright example of the use of an AR smartphone app to promote the movie/TV series is The Mandalorian AR Marketing Campaign. It's an AR program that activates a digital model of the Mandalorian himself and Baby Yoda while recreating some scenes from the show. The convenience of this AR experience is that users can unlock it while sitting on the couch at home.
The Mandalorian AR Marketing Campaign was developed by Disney, in collaboration with  Google,  as a part of a promo campaign for the second season of "Star Wars: The Mandalorian".
Another famous case of implementing AR for TV shows promotion is a campaign for the third season of Stranger Things by Netflix. It's a collaboration of the Netflix project with the popular newspaper, The New York Times. A user had a chance to unlock AR content with the 1980s images on newspaper pages, using a smartphone. These images are Starcourt Mall ads. It's a fictional mall, where a part of the season three plot is happening.
It's not the first time that Stranger Things promoters use immersive technologies for the show's promo campaign. During the first season premiere, Netflix presented a VR experience on YouTube with fans being allowed to observe the main location of the season. 
Try Before You Buy: Augmented Reality Virtual Try-On 
AR try-on scans the human body and allows a customer to try on digital items. 
One of the most interesting use cases of implementing augmented reality for try-on is the one presented by Lacoste. In this program, a smartphone user sees both the digital model of a sneaker on their foot and a 3D installation that outlines a style of a certain shoe model.
In our article, you can read more about the technology of virtual try-on and its influence on modern retail. 
Transform Your Business with Augmented Reality Marketing
Today, modern brands pay more attention to augmented reality as a marketing tool for a few reasons, including
Improving brands and customer interaction.  Using augmented reality for promotion, you make your brand and products more available for modern gadget users. Nowadays, there are

over 6 billion smartphone users

around the world, and it's 83% of the whole planet's population. So, people can learn more about your brand and new product, not taking their sights off device screens. 
Enhancing customers' emotional connection with brands. It has long been proven that immersive technologies can cause emotional feedback in users. It is one thing when your client reads the info about the advantages of your services or goods. Another thing is when a customer can try on digital clothes or play AR games, thus adopting an emotional connection and pleasant associations with the brand. According to Invespcro, 70% of customers claimed to be loyal to a brand that uses AR. 
Increasing the company's income. Having tested your product in AI, your customers are more likely to buy a real product.

61% of online customers

said they preferred to buy items on-site after AR product testing. 
Facilitating the possibility to provide feedback. When trying on an item's digital version, customers have a better understanding of whether this item fits them or not. According to

Harvard Business School

, over 30 000 items are produced annually, and 80% of them have flaws. Augmented reality offers companies to improve customer feedback and eliminate an item's defects. 
Engaging young audience. Immersive and innovative technologies are primarily an object of interest for children, teenagers, and Z-gen youth (some media even call them AR-generation). This generation has a better awareness of modern technologies. Zoomers were literally growing up with smartphones in their hands.

As data for April 2022 shows

, 92% of Zoomers want to use AR for their online shopping.
Augmented reality is a powerful tool to improve your brand's promo.  It helps companies reach modern customers, who cannot imagine their lives without devices. Augmented reality also enhances the emotional connection between the brand and the audience and improves clients' loyalty to a brand. Want to have a stronger connection between your brand and the audience? Start keeping up with the latest trends and implementing AI applications. It won't take long before the result comes. 
Image: Freepik
Related Articles