Revamping Farming Practices: Augmented Reality's Role in Agriculture
June 1, 2023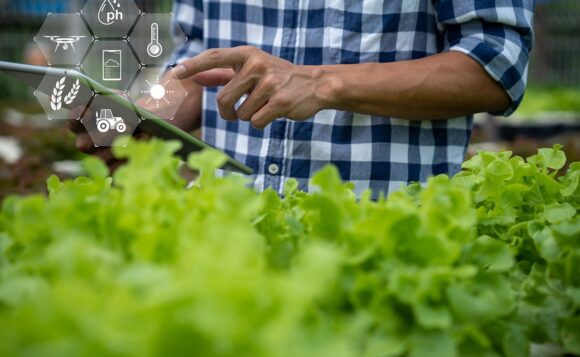 With the advent of augmented reality, a new wave of technological advancements has flooded fields and farms, changing the way we approach farming. The integration of augmented reality makes agriculture more efficient and productive and offers agricultural professionals a variety of applications that bridge the gap between the physical and digital realms.
In this article, we will explore in more detail the areas of AR application in agriculture and the advantages it provides to the agro-industry.
AR Takes Root: Enhancing Training in Agriculture 
AR training in the workplace has already proven its effectiveness. This type of training is successful because the training itself and the consolidation of employees' skills are turned into an exciting gamified process with digital prompts, superimposed on the real space. In addition, augmented reality training provides more realistic scenarios that can occur while working with the equipment.
In agriculture, farmworkers can use AR to perform certain tasks related to growing and harvesting crops, complying with safety rules, and handling equipment in a safe and controlled environment.
Using AR training, employees of agricultural enterprises become more confident in themselves and their skills, more motivated during task performance, and the number of incidents and errors is significantly reduced.
Read also: How To Improve Your Manufacturing With VR Training 

AR Empowers Farmers to Safeguard and Monitor Plants
As a rule, AR plant monitoring apps are used to monitor the growth of plant crops, identify various pests and diseases, as well as collect data on the nutrition and condition of the soil, and the number of fertilizers received by a plant. In addition, agriculture workers visualize real-time data on air temperature and humidity levels through augmented reality.
For example, Insider Navigation, a company that works on AR experiences for indoor spaces, together with Visionaries 777's sister company, AR Automation has developed an AR app for farmers who grow indoor plants in pots. Using the tablet, the planter points the camera to see data about the soil, lighting, humidity and the condition of the plant itself superimposed on the real plants. In addition, with the help of a tablet, the user can adjust the amount of LED light, as well as the ventilation and irrigation systems.
"By using the INS SDK, AR Automation can deliver stable and accurate indoor tracking in a constantly changing environment, such as in vertical farms where plants are continuously growing and lighting is constantly changing", said Nicolas Guyon, Co-Founder of Visionaries 777.
Revolutionizing Remote Assistance and Troubleshooting for Farmers in Agriculture
Using AR apps in agriculture, farmers receive real-time remote support from experts and technicians. They can use smart glasses or mobile devices to transmit real-time video, allowing experts to see and assess the situation.
With the help of augmented reality, experts overlay digital notes and instructions, offering step-by-step assistance to the farmer. AR remote support minimizes lag time, as enterprise employees can quickly solve problems with the help of experts, even in remote or hard-to-reach areas.
Typically, this kind of remote support for farmers is usually used to repair equipment. For example, SoftServe's Reskill AR Solution is designed for remote maintenance of tractors. Instead of waiting for the technician to arrive, the farmworker remotely communicates with a specialist and visually shows the problem with the transport.
Empowering Farmers with Enhanced Farm Management and Navigation
Another area where AR applications are used in agriculture is management and navigation within an enterprise. With these applications, farm owners can see the total area of the fields, as well as track the location of tractors in real-time.
For example, Farm Insight AR app allows the manager of an enterprise on the field itself to see through the smartphone camera digital pointers where and at what distance this or that tractor is located. Also, using Farm Insight, a manager can see the entire area of the fields from a bird's eye view on the device.
Such applications as Farm Insight significantly facilitate the management of an enterprise, because the work can be monitored remotely without entering the office. If the manager is in the field, he is better oriented in space and can optimize the coordination of work on the harvest.
Read also: From Outdoors to Indoors: AR Navigation as Game-Changer 
The integration of augmented reality is transforming agriculture and opening up a range of opportunities for industry professionals. With AR applications for agriculture, such as virtual crop research, precision farming, and real-time data visualization, the agribusiness industry is transforming and increasing its productivity. In its turn, the work of the farmers themselves becomes easier, they can improve their work skills, track the condition of their harvest, and repair their equipment much faster.
Augmented reality is a powerful tool that has the potential to shape the future of agriculture, ensuring a sustainable and prosperous agricultural industry for generations to come.
Image: Pixabay.