From Outdoors to Indoors: AR Navigation as Game-Changer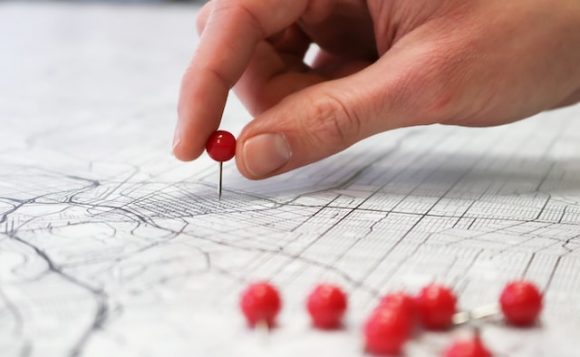 Due to the fact that digital objects are superimposed on a physical environment, AR is also applied as a tool to develop convenient digital navigation. This type of navigation allows users to reach the point of destination both on a street and inside a building more quickly and easily. No wonder the technology is gradually becoming popular and is already used by top companies, like Google, Mercedes, Vienna Tech Museum, etc. Moreover, 57% of developers think navigation is a leading technology for AR and VR in the future.
What are the main advantages of AR navigation and why is it so convenient for a device user? The answer is hidden in this article. 
Main Power of AR Navigation
In augmented reality, a digital object is overlaid onto a real environment, creating an immersive experience. Usually, AR is available for smartphones, tablets, and MR headsets. You can activate augmented reality using special markers like QR codes, images, physical objects, etc. 
AR navigation is an innovative technology that puts digital signs into a real environment and leads a gadget user to the desired destination. Augmented reality navigation uses real-time data to give a user current information about the surrounding, including routing options, interesting places, and so on. 
Using AR navigation, users see digital signs in real places through their gadget screen and follow these signs.
Augmented reality navigation also has other advantages, including
Saving time. Instead of wasting time looking at a smartphone map, a user reaches their destination much faster. Regular maps may be confusing cause we see an approximate scheme of a place, not a place itself. Back in the 20th century, famous Polish American scientist

Alfred Korzybski once said

: "A map is not the territory it represents, but, if correct, it has a similar structure to the territory, which accounts for its usefulness".  
Safety improvement. AR navigation provides a gadget user with real-time information about different obstacles, like traffic jams, etc. Also, it shows drivers and pedestrians where to turn next, so they won't miss their route. 
Additional information about the nearest objects. Some augmented reality navigation apps also contain text, audio, and video content, that is placed onto real static objects, whether it's a building, monument, or exhibit. AR navigation with a function like this is applied in museums and touristic places to make the tour more exciting due to the immersion effect and the possibility to interact with the surroundings using digital technology.
Wide range of use cases.  Augmented reality navigation is a convenient tool for both streets and buildings. For example, you can use indoor AR navigation to help an employee or customer to find the way out of a building with many floors and stairs. 
Easy Outdoor Navigation with Augmented Reality
Imagine, you need to reach a certain place you've never been to before. AR navigation with digital signs in a smartphone will guide you through the street. This type of augmented reality navigation is applied only to streets and open places and uses GPS and special beacons.  
Google Maps Live View is a bright example of outdoor navigation. The AR mode can be activated in Google Maps itself. It is designed for pedestrians only, because the user location data is based on immobile objects on a street, like buildings. 
"How many times have you been using Google Maps and questioned: wait, which way am I facing? Do I go straight or turn around and go back? Am I going in the right direction? It happens to me a lot, and even more in big cities since high buildings can block GPS signals. Well, Google Maps AR Mode solves this issue", said blogger Tesia Custode, author of the eponymous YouTube channel.
Moreover, AR navigation is a convenient tool for tourists, who arrived at a brand-new location. With digital signs, a smartphone user can both find hotels, restaurants, or museums, and get more information about historical places. 
AR-program Florence Travel Guide, where tourists can learn more about important cultural and historical places on city streets is an example of augmented reality touristic navigation.  By the way, you can read more about this AR navigation app here.
Revolutionize Your Driving Experience with AR Navigation
This option is suitable for you if you plan to reach your destination by car. Augmented reality navigation, embedded in a car, tells and shows a driver which way they should go.
Mercedes-Benz becomes one of the first automotive companies to start applying AR navigation for cars. And Mercedes 2020 GLE became one of the brand's first cars with this type of navigation. 
Emme Hall, the author of car's review, who took test drive, had positive impression of the innovation: "The forward-facing camera offers an augmented-reality overlay to show me exactly where to turn, and the addresses of nearby buildings pop up on the screen, so I never miss my destination. This is a huge step forward for navigation tech". 
Effortless Indoor Navigation with Augmented Reality
With the help of augmented reality navigation, people can be guided inside high buildings with a lot of stairs and corridors easier (hospitals, office buildings, universities, etc).
Unlike AR outdoor navigation, indoor navigation is not based on GPS and images from satellites. AR apps for indoor navigation use systems of Bluetooth beacons and Wi-Fi inside a building.
This type of navigation helps people reach a certain room without asking other people. With AR navigation, new employees or university students can be guided quickly and not to be late to a lecture or conference.
For office workers, Augmented Pixels developed AI-powered indoor AR navigation. A digital twin of an office is transferred on the app with destinations marked on it. 

AR navigation is also applied to museums. As a rule, it guides a visitor to a room with a certain exhibition displayed. This type of AR navigation also contains data about every exhibit in a museum.
Vienna Tech museum, in collaboration with ViewAR, developed an AR guide, that is activated on a smartphone with a QR code. After activation, a digital robot appears on a smartphone screen and guides a visitor through the building. During the excursion, a visitor gets additional information about every exhibit as a text, video, or audio.
To develop this AR excursion for smartphone, more than 22 000 square meters of a building was digitalized, and data about more than 12 000 exhibits were transferred in the app. It's the biggest AR indoor navigation ever made. 

AR navigation is a useful and innovative function that helps people reach their destination safely and easily. Instead of looking at a scheme of a building or street on a device, digital signs placed in a physical environment show a smartphone user the right direction directly. Technology not only helps people to be guided in the environment but also turns wayfinding into an interesting experience. Especially with AR showing users facts about the nearest place of interest. 
Related Articles