Beyond Gaming and Movies. Exploring Unconventional Applications of AR and VR in Entertainment
June 6, 2023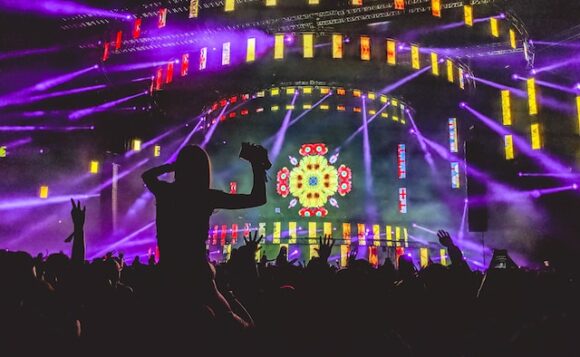 Virtual and augmented reality continue to successfully transform entertainment because the immersive digital environment creates an unforgettable and unique experience.
According to Statista, the value of the VR gaming market was estimated at $7.7 billion in 2020 and is expected to grow to $45.09 billion in 2027.
In this article, we will delve into the most interesting cases that demonstrate the limitless possibilities of AR and VR in entertainment. We will explore the fusion of technology and craftsmanship, from exciting sports competitions to amusing theater shows in VR that blur the line between reality and the virtual world.

Explore Unusual VR Events That Redefine Entertainment
Unconventional VR Games in the World of Entertainment
One of the most popular areas where virtual reality is used is gaming. According to an IDC survey, 64% of virtual reality users said that the gaming industry is the industry where VR will thrive the most.
That's due to virtual reality being an immersive digital space in which you can create any setting and game tasks. VR is best suited for quests, shooters, and other genres where you need to move in space and perform tasks with controllers or hands.
One of the original representatives of VR games is Job Simulator, where a headset user lives the life of an ordinary office worker. The essence of the game is performing all the tasks in the office of those times when many processes were not yet automated. The entire gameplay is complemented by bright graphics and specific humor. So, in this game, you can throw a stapler at the boss, fire employees, throw various objects in all directions, including food, etc.
Lights, Camera, VR! The Next Chapter of Theatre and Movies in Virtual Reality
Virtual reality is the next step in cinema after 3D and IMAX. VR can serve as an excellent tool for conveying the mood and idea of the movie since the main function of the movie itself is to immerse the viewer in the story.
Read also: Virtual Reality Entertainment – A New Look In Storytelling 
Speaking about theater, in the age of modern technology, live theater performances are also getting their boost with XR. One of these directions is the immersive theater, in which a viewer in a VR headset is directly immersed in the theatrical production itself. The distance between the viewer and the actors is thus reduced to a minimum.
In an immersive theater, the destruction of the fourth wall takes place and the audience can experience the story as if they were in the same room with the actors.
One of the leaders of this innovative direction is the National Theatre in London. A few years ago, they opened an immersive storytelling studio, which is designed for two main functions: developing and showing VR stage plays.
Since the studio's inception, the National Theatre has produced a number of successful XR productions, including the surreal Alice in Wonderland-themed AR stage play wonder.land and VR documentary Home/Aamir about refugee life.
"It's definitely not just for gaming. It's definitely not just for performance. It's a new technology and everyone's trying to work out what it means to them. I've noticed that theatre makers respond well to it because they are used to an environment whereby the performer works in a 360 space and the audience can look wherever they want, any particular point in time," said Toby Coffey, head of digital development at National Theatre. 
Painting in a New Dimension. Wonders of VR Art
Virtual reality has become a convenient platform for artists who create their works of art. Using digital space as a tool to draw installations, the level of an artist's performance depends only on their imagination. The author no longer needs to buy an easel, canvases, expensive paints, or modeling clay. All you have to do is put on the VR glasses, and all the digital tools are at your fingertips.
One of the most famous tools for creating a picture in virtual reality is Google Tilt Brush. An artist can use a controller and a virtual brush to create a sculpture or paint a 3D picture. Thus, a user wearing VR glasses is not limited only to a virtual easel. They have the opportunity to paint the entire space around them with virtual paint, literally creating an immersive picture.
Gesture VR app allows you to create new 2D and 3D pictures in a digital studio with access to more than 200 models of people, animals, fantasy creatures, etc. Also, in virtual space, artists are able to control the lighting and poses of models and involve several friends in the creative process. In addition, Gesture VR gives an artist the option to draw both on a virtual easel and on real paper.
Virtual Reality Takes Center Stage. The Thrilling Integration of VR in Sports and Public Events
VR in Sports Entertainment
Virtual reality has become widely used in sports. In general, it is used in several areas: training, amateur games, competitions, and virtual visits to events. As for training, virtual reality provides an athlete with the most realistic training conditions, without the need to allocate a separate room and equipment. And sometimes it is difficult to create a believable environment in the real world, depending on the place of training and the amount of money.
Read also: The Way VR Improves Sports Training Experience 
Speaking about visiting competitions, spectators put on VR headsets to get to, for example, virtual football or car races. A sports fan does not need to spend extra time and money to get to the stadium, and VR headsets provide the effect of presence, which is completely absent during watching the competition on TV.
In addition, wearing headsets, a viewer can watch sports competitions from any angle: both from a seat and from the field itself. This is allowed in Xtadium app for Quest 2-3 VR glasses, where the viewer has an assortment of events to attend virtually, from Nascar races to boxing matches. The application provides an opportunity to visit the competition virtually with several friends using avatars.
In addition, VR broadcasts of basketball matches have also been secured by the NBA, which extended its contract with Meta for further broadcasts.
"We want to bring that arena atmosphere to them", said Paul Massache, the NBA's associate vice president of broadcasting content management. "Part of that is building this immersive experience. Now, to have viewers sit courtside virtually is an experience that really can't be duplicated. Unless of course, you know, you're at the game."  
VR and AR Transform the Concert Experience
Another area where virtual reality is implemented is concerts. VR performances allow fans to see their favorite artist from the comfort of their own home, without taking their eyes off their favorite game. Also, virtual concerts open up new opportunities for artists. Singers and musicians can improve their performance with more complex visual effects that are very difficult or impossible to implement in real life. So, there are many examples where top artists have given concerts in virtual universes like Fortnite.
Read also: Unusual VR Events You Could Have Missed 
On the other hand, modern immersive technologies can enhance live performances and make them impressive and memorable for audiences. As the band Gorillaz did, which used AR for their performance at Coachella. With augmented reality, viewers could see 3D versions of animated band members on stage via a YouTube stream.
"Bringing the Gorillaz characters to life is the best possible use case we could have imagined for Unreal Engine and AR in the Coachella YouTube live stream. We're excited to continue enabling artists to extend their performances in new and engaging ways," said Sam Schoonover, Lead of Innovation and Emerging Technology for Coachella.
Today, XR continues to evolve. There are more unusual use cases that are redefining the way we think about modern entertainment. From drawing 3D pictures in virtual reality, VR sports events that transport us to the field, to immersive theater shows, the possibilities are endless.
The most unusual AR/VR use cases in entertainment have shown us the incredible potential of the technology, creating unforgettable moments and transporting us to new dimensions. As XR entertainment continues to develop and expand, we can only imagine the future extraordinary experiences that lie ahead.