The way VR improves sports training experience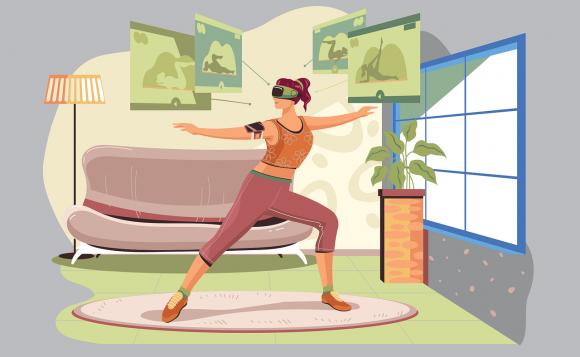 Coaches, teams, and athletes use virtual reality as an effective way to train skills in boxing, golf, football, tennis, etc. 
The US athletes use VR the most. By 2031, the US VR sports market will have reached 56,7 USD billion. 
The way VR sports training is applied
Virtual reality for sports training is primarily called to improve practical skills. For example, professional boxers and amateurs can train in the VR app The Thrill of the Fight for Oculus Quest. In this app, a player can beat a virtual punching bag and compete with an opponent in the ring. In the game, an athlete can move around the room and punch, similar to a real-life ring, which enhances the immersion effect.
The Thrill of the Fight also helps players improve their virtual rival's abilities: increase their speed, punch power, ability to dodge, stamina during the fight, and more. The fight with a rival could last up to twelve rounds. 
With the help of VR, athletes can develop necessary tactical skills required for car racing and team games. German football association has gone into partnership with Beyond Sports to design VR and AR cognitive and tactical training. 

In virtual reality, football players enhance their abilities to make decisions during the game and improve the awareness of their position on the field. This training program also contains in-game scenario development and time-pressured tasks, thus helping to develop athletes' psychological skills.
Moreover, VR is applied to athletes' physical training. Using the VR app Move for Oculus, a sportsman can track the number of exercises and burned calories, during the training and after it. A player can see the tournament table with daily statistics and the list of most recently used programs. 
Also, athletes can use virtual reality for physical recovery after serious injuries. Gamified exercises are designed to recover muscle functions and pain decrease. More detailed information about VR apps for rehabilitation you can read here. 
The main advantages of VR sports training
The main advantages of virtual reality for sports training include the following:
Safe training environment 
Doctor Ancret Szpak from the University of South Australia carried out an experiment to train and estimate abilities of 57 volunteers, who played VR game Eleven: Table Tennis. 
"Our research shows the potential that VR sports training can have in real-world settings," said Szpak. "The real benefit is an ability to learn and practice tasks that may be logistically difficult, dangerous or impractical to do in the real world." 
VR provides gamified sports training
With FitXR app, an athlete can have a wide range of gamified workout programs like boxing, dancing, and high-intensity interval training (HIIT). In VR programs, a player can hit digital balls by hands or repeat dance moves after virtual instructor.
Athletes can also choose their own personal real-life coach, who can guide and motivate them during VR sports training.
Virtual reality can help reduce pain and relieve training process
Maria Matsangidou, a doctoral researcher in the School of Engineering and Digital Arts at the University of Kent in the United Kingdom, conducted an experiment on VR influence on pain level and athletes' stamina. She asked 80 volunteers to do biceps exercise and hold the weight as long as possible. 
One half of the athletes wore VR headset during the workouts, another half didn't. Research showed that during heavyweight lift, pain level of athletes with VR headset was 10% lower, compared to those who trained with no VR equipment. Also, sportsmen who trained in the virtual reality, could hold the weight 2 minutes longer. 
Ensuring realism during virtual reality sports training
The app  VR Tennis Training Simulator for Oculus Quest provides realistic virtual gaming experience.
A customized engine was designed to create maximally plausible recreation of the physics of the tennis ball movement. It takes into account such factors like side wind, racket string tension, and how the ball acts after it hit the racket and the floor. 
Conclusion
Gamified process of virtual reality can enhance athletes' stamina and improve their physical, tactical, and psychological skills. Realistic virtual environment helps sportsmen train at any place, regardless of the weather, special equipment availability, and training real-life space. 
Related Articles