Augmented Reality Books: Next Chapter in Interactive Reading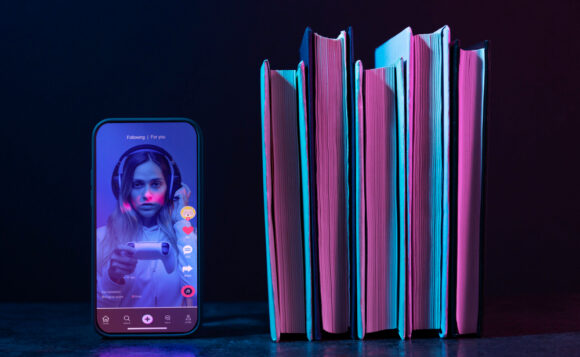 In the era of social media and binge-watching series on streaming services, people seem to be gradually forgetting about reading paper books. And this concern is confirmed by statistics from Wordsrated, which shows that in 2022, more than half of Americans have not read a single book.
How can you solve this problem and develop modern literature? In this case, augmented reality can come to the rescue, allowing readers to go on interactive journeys blurring the lines between fiction and reality. In addition, AR experiences that appear on the pages are also actively used for educational textbooks, which help teachers better familiarize students with the subject being studied.
In this material, you will learn in more detail how modern immersive technologies contribute to the development of a paper book and motivate the audience to read.

Augmented Reality Books: Exploring Magic Between Pages and Screens
Augmented reality books, also known as a-books, are paper books that contain markers on their pages that activate AR. Immersive digital content is brought to life with the help of smartphone applications. This function allows you to better visualize the concepts that the author of the book wanted to convey to their audience.
To activate augmented reality for a book, a reader must download a smartphone app that uses a camera to scan pages with QR codes or 2D images. Thus, a-books combine the additional possibilities of modern digital technologies and the traditionalism of real paper
books. For example, specialists at the Institute of Advanced Technologies at the University of Surrey are actively developing books with augmented reality, which will provide additional multimedia information along with the text on the pages.
Read also: What's The Difference Between VR, AR and MR
"I'm not suggesting that this is going to be augmenting every single book, but there would be maybe fantasy novels, or user manuals, children's books where you get all sorts of content coming out of the book; potentially wedding albums, where you could have a very precious item in itself and that would be the link to some multimedia, videos, and things like that," said Dr. Radu Sporea, senior lecturer of the Institute of Advanced Technologies. 
Empowering Next Generation of Learners with AR Books
In terms of education, augmented reality provides an opportunity for students to go beyond just reading theoretical material with 2D images. WIth AR, students have a chance to see the material being studied from all angles and even interact with it. Such a function is especially relevant for many subjects, from geometry and physics to foreign languages and history.
When children and teenagers study these sciences using augmented reality, their concentration level during the learning process is proven to increase. About 72% of students said they were more likely to participate in an AR-powered studying process. 
Read also: Augmented Reality: Secret Weapon for Boosting Your Child's Creativity and Imagination 
For example, an illustrated guide with an augmented reality mobile app was released for Japanese English learners. By pointing the smartphone screen at the pages of the textbook, the student sees the animated characters of the book in front of them in AR and also listens to their dialogue. Thus, augmented reality not only makes learning more interactive but also allows you to save on audio cassettes and discs, which are usually included with textbooks for learning a foreign language.
In addition, augmented reality can be useful in learning art, where the visual is a key component. Like, for example, a concept from the Torch company, supplemented the book on the art of Ancient Greece with AR projections of famous sculptures, bas-reliefs, and other works. Instead of just reading about these works and seeing photos that only show one angle of them, readers can explore the statues in their entirety and from all angles in the AR mode.
Exploring AR Books in Fiction: Where Imagination Takes Flight
Speaking about fiction, the main function of the book is to immerse readers in the world skillfully written by the author, to convey a certain moral of the story, or simply entertain and distract the reader from routine. Augmented reality for books makes the story more three-dimensional and allows you to more clearly show the author's original idea and immerse the reader in his imagination.
In addition, augmented reality for books is an effective and interesting way to attract the attention of young people to books. According to the American Psychological Association, one in three teens in America hasn't read a book in a year, attributing it to social media and gaming.
The gamified process of reading a book, whether it is a standard fiction or a comic book, can interest a young audience in reading. In this way, they not only read textual descriptions but also see three-dimensional images of the characters and their environment. Nine out of ten children said they would read more books if they contained augmented reality.
Moreover, AR is able to attract the audience of a book franchise that has already gained worldwide popularity. In 2012, a book with augmented reality "Wonderbook™: Book of Spells" based on the universe of "Harry Potter" by J. K. Rowling was released for PlayStation. A specially prepared Wonderbook (marked book) activates digital AR content that transforms the book into an ancient spellbook. The experience is possible with the Playstation Eye camera and a controller that turns into a magic wand in augmented reality.
Augmented reality has created new opportunities for audiences who can read books and interact with digital visual content on their pages. Thus, the gap between the author's idea and the reader's imagination is greatly reduced when they see the universe and its characters. For teachers, augmented reality is a convenient tool that helps to more easily convey the studied subject, thereby positively affecting the concentration of students.
AR technology is an effective way to support the book business, as augmented reality complements the traditional reading experience instead of replacing it.
Image: Freepik
Related Articles