Augmented Reality: Secret Weapon for Boosting Your Child's Creativity and Imagination
May 15, 2023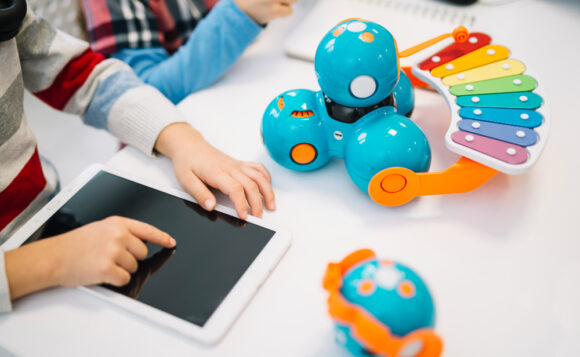 In the age of digital technologies, augmented reality is gradually changing the way children learn about their environment, develop their thinking, and acquire new skills.
With the help of digital models superimposed on the real world, the learning process for preschool and elementary school students turns into an exciting experience. After all, it has been proven that a gamified approach increases concentration and the effectiveness of a child's learning. As for adults, 67% of students said that gamified learning is more motivating and engaging than traditional classroom learning methods.
If adults like gamification and modern technologies, children will be even more interested in augmented reality experiences.
What are the ways of encouraging children to study? In this article, you will learn more about successful use cases in the field of children's educational content, as well as the main advantages of AR in the industry.
Designing Interactive and Educational AR Experiences for Children
There are several important factors to consider when developing an AR application for children. Oleksandr Ivanov, Qualium Systems Project Manager, shared his thoughts on the key factors you should pay attention to, including
Ease of use: Make sure the app is easy for kids to use, and has an intuitive and simple interface.

Safety: Ensure the development of a safe environment where the child can use the application without the risk of harming themselves.

Learning aspect: Make the app educational and interesting, providing opportunities for children to learn new things and develop skills.

Visual effects: Use bright colors, attractive graphics, and realistic AR elements to engage and engage children.
AR Education for Young Minds: Advantages of Augmented Reality in Learning
Publishers of children's books and developers of educational toys are increasingly paying attention to augmented reality because it offers them a number of advantages, including
Active and playful learning process. Augmented reality contributes to the fact that a child actively participates in the study of a particular subject. Instead of passively listening to a lecture during class or reading books with schematic pictures, a schoolchild or kindergarten student can independently touch and modify digital 3D objects. In addition, with the help of AR, reading a book can be turned into an interesting experience of communication with animated digital characters.
The ability to show abstract concepts to a child. Augmented reality allows you to visualize those concepts that are usually quite hard to explain for educators. After seeing an AR installation of a certain phenomenon, the child will have a clearer understanding of the subject. Thus, the kid begins to perceive educational material more easily.
An increased concentration on the educational process. Gamified learning provides a child with a much easier and simpler way to concentrate on learning. AR itself is a new and exciting experience, and playing with digital objects can be not only entertaining but also educational.
Engagement in modern technologies. Zoomers and Gen Alpha children are among those who use portable gadgets the most.

79% of Zoomers (13-20 years old)

said that they cannot live without smartphones. Taking into account further trends in technological development, children born, for example, in the second half of the 2010s, are much more open to technical innovations than their parents.
Increased child's creative thinking. Playing with AR objects and changing their external characteristics, kids also develop their imagination and artistic thinking. For example, AR coloring books can help with it.
Spotlight on the Most Successful Augmented Reality Experiences
FastAR Adventures: Exploring the Exciting World of Augmented Reality Learning for Children
The Ukrainian company FastAR has developed a whole series of educational books and educational board games with augmented reality. Among the range of their products, we can find alphabets and textbooks on mathematics, as well as manuals on the study of space, the human body, animals, including dinosaurs, etc.
For example, this video shows how to use the digital alphabet: point your smartphone camera at the pages of the textbook, and each illustration on the page begins to "come to life" with the AR: both each letter of the Ukrainian alphabet and the characters associated with it.
Arloon Plants AR App Takes Children on a Virtual Journey
Arloon Plants is an AR smartphone app that helps kids learn about plants. The application itself has several sections:
plant structure;

the process of plant development (including blooming and reproduction);

seasons; 

exercises and tests;

a garden where the child can learn about different types of bushes, flowers, and trees;

houseplant care rules.
In the last chapter, the child learns how to properly "water" a virtual flower and observes how it grows. This feature is also available in augmented reality, where a digital plant is superimposed on the real world. A child can also take a picture of the AR flower to capture its progress.
Applaidu by Kinder: Elevating Children's Learning
Applaidu is an edutainment app by Kinder for children aged 4-9 years. This game includes mini-games, an option to create your own book and other features for child development. Smartphone and tablet users can access Applaidu in the following way: each Kinder Surprise and Kinder Joy toy comes with an instruction with a QR code that gives access to download this free application.
The app also includes an augmented reality option, where by scanning a Kinder toy, you can activate a digital animal that can be controlled using voice commands. In the game, you can also create your own virtual character or use a ready-made one.

Disney's AR Coloring Book Transforms Children's Art into a Magical Journey
With augmented reality, classic coloring books can be turned into an exciting immersive experience that develops the child's artistic skills and inspires further creativity.
That's why Disney released an AR coloring book, in which children can not only paint cartoon characters but also "animate" them. To begin with, you need to download the smartphone application for the book. Then, this app uses the smartphone camera, which is directed to Disney coloring pages. Next, a child, with the help of parents or friends, paints a 2D picture and an AR model at the same time.
"As a child fills in a cartoon character on the page, the app — making use of the camera on a smartphone or tablet — scans the colors and patterns they create to fill in a 3-D animated model of that same character within the app. Since a drawing is 2-D, the algorithm can also intelligently extrapolate patterns and color to parts of the 3-D model otherwise unrepresented in the drawing — for example, by coloring an elephant's back the same color as its front," says the official message.
Storybook AR: Igniting Imagination and Learning with Augmented Reality
Sixty Two together with HEI Schools Senayan developed an educational interactive children's book with AR installations.
This book teaches children to be kind to the environment and talks about how you can recycle leftover products, in particular, cardboard boxes, which can be used to make cardboard models of cars, ovens, space rocket suits, etc.
When pointing the smartphone camera at the pages, the illustrations come to life in augmented reality, which makes children interested in reading the book.
"Animation visualizing how they're made, such as the oven project, also helps assist kids in understanding how the final result came to be from two-dimensional flat cardboards. Say no more to traditional origami assembly instruction sheets," said a blog post by Sixty Two on Medium. 
Learning and Fun Combined with Lego's AR App and NASA's Mars Rover Perseverance
Brand new Lego constructor that contains Percy the robot and a small helicopter called Ingenuity will have an AR application that will bring the toy to life.
An already-built rover can be controlled using a smartphone. The camera of a device is directed over the toy, making a digital model drive on the surface and "dig the ground".
The Lego constructor with an AR application positively contributes to the child's learning space and enhances the gameplay with a real constructor.
It will not be the first collaboration between Lego and NASA, but it is the first toy spacecraft with its own AR application. Previously, only toy models of famous cars got such an application.
Leo AR Education: Empowering Young Minds with Augmented Reality Learning
Leo AR Education is an app that places photorealistic 3D objects in a real environment. The app serves both as an entertainment and an educational application for kids. Leo AR Education is a separate type of Leo AR App, specially designed for children's education.
Using the app, you can explore animals, planets, stars, and the structure of the human body. You can also teach a child mathematics and the alphabet, turning learning into an entertaining process with games and dances.
Leo AR Education is recommended both for home learning and classrooms as digital support for teachers during real lessons.
Augmented reality, which superimposes digital objects in the real environment, allows a child to learn new subjects more clearly and easily. Children are able not only to read, for example, about plants or planets, but also interact with their digital copies, turning learning into a gamified experience. 
Image: Freepik