WebAR for E-commerce: Enhancing Customer Experience and Boosting Sales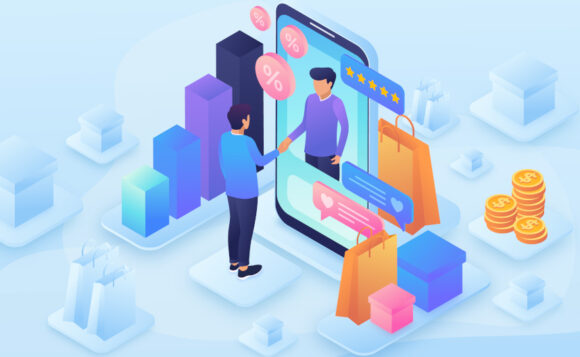 Brands are gradually paying attention to WebAR, an immersive technology that provides companies with new ways to encourage audiences to buy their product. Using WebAR, you can develop advertisements or digital catalogs, where you can observe an item from all angles and try its digital version on yourself or your own environment.
Moreover, WebAR solves issues of customers who order an item online and don't fully realize whether this item suits them or not. And, according to statistics, 91% of online customers bought items that didn't fit them.
Learn more about WebAR technology, its principles of work, and the most successful use cases in our new article. 
Technical Characteristics of WebAR for E-commerce
WebAR is an in-browser augmented reality that can be used on a smartphone, tablet, PC, or another device. Access to AR through a browser is perfect for e-commerce, allowing brands to provide their customers with instant access to digital content. And customers themselves don't have to wait till a mobile app with immersive digital content is downloaded on a device.
In one of the precious articles, we explained in more detail the main difference between native XR apps and WebXR. 
Key Principles of WebAR in E-commerce 
WebAR uses gadgets and sensors to activate digital content that is superimposed on a real environment. Immersive AR content here means interactive digital 3D models, (both static and dynamic), with audio and video content, text information, etc.
For different business purposes, WebAR has, at least, 5 different types of functionality:
Target recognition. It's a feature that allows AR apps to detect and track 2D images, which activate augmented reality content. This function is available for both regular 2D pictures and QR codes. Target recognition is available for Android (Chrome web browser) and iOS.

Target capture. A function that allows WebAR apps to track and augment 2D objects, captured by the user (business cards, stickers, etc). This function works both on Android (Chrome web browser) and iOS.

Face recognition. A technology, that detects face surface and mimics. This feature superimposes immersive 3D content on a face to synchronize it with mimics. Face recognition is available for Android (Chrome web browser) and iOS.

Surface recognition. A technology that detects flat surfaces (walls, floor, ground, table surface, etc) and places 3D objects on them. There's also an option of using a device as a controller to move the AR object around. Unfortunately, surface recognition isn't available for iOS.

AR geolocation. This technology places digital objects, using geolocation markers or location tracking. As a rule, AR geolocation is used for augmented reality maps, AR navigators, and Pokemon Go-like games. This function isn't available for iOS.

Advantages of WebAR in E-commerce
How WebAR is Changing the Way We Shop Online
WebAR allows users to activate virtual try on, which gives them the possibility to check out a digital version of an item before purchase. According to Vertebrae, 57.15% of customers said they'd like to place such items like furniture, appliances, and home decor in their environment before buying. Almost 34% of respondents said they would like to test digital clothes, shoes, and accessories before the purchase. And WebAR allows them to do it.
Role of WebAR in E-commerce Interaction
WebAR greatly improves customer interaction experience thanks to the opportunity to directly observe and try digital items. One of the ways to enhance customers' shopping experience are interactive catalogs on the brand's websites. These catalogs allow customers to observe 3D models of different items and place them on themselves or their environment before the purchase. This function is mostly used by brands for selling:
cosmetics (virtual makeup);

clothes, shoes, and accessories (virtual try-on); 

furniture and home decor (WebAR experiences that superimpose digital furniture in a real room).
How WebAR is Driving Business Income in E-commerce
Based on a previous point, the possibility to test an item's digital version before buying increases a company's income. In Q1 of 2020, French company L'Oreal increased its income by 20% with virtual makeup. 
How WebAR is Increasing Audience Engagement in E-commerce
WebAR in e-commerce provides a specific way to engage customers. According to Accenture research, 50% of customers said they would turn to brands that implement immersive interactive technologies regularly, and 47% of respondents said they felt more connected with a proposed product by using immersive technologies.
Here, you can read more about the advantages of augmented reality in advertisement and how it enhances customer experience. 
Examples of Brands Using WebAR in E-commerce
WebAR Fashion Experiences By Gucci
Famous Italian brand Gucci, in collaboration with ІТ company Kivisense, developed a WebAR try-on, which allows customers to wear digital sneakers. The experience is activated with a QR code on the brand's official site, and a customer can not just check out digital sneakers, but also take a photo with them and share it on social media.
This WebAR experience uses foot tracking technology that helps a digital sneaker to realistically "fit" on a foot. AI automatically calculates a foot size, so virtual sneakers would look right on a user's feet. 
Along with Kivisense, the brand also developed a WebAR installation which represents a Gucci perfume Flora Gorgeous Gardenia. Using a smartphone screen, a potential customer places a digital model of a perfume bottle in a real environment. A user opens a perfume cap, and then virtual pink and blue flower petals are getting out of the bottle. Capturing the perfume mood is the main purpose of this WebAR experience.
Try Before You Buy: L'Oreal's WebAR Virtual Makeup Experience
French cosmetics brand L'Oreal developed virtual makeup to help their customers choose decorative cosmetics on Amazon site. This WebAR experience tracks head movement and face mimics. 
This experience is also developed by Modiface, which is considered to be one of the top augmented reality developers. The virtual makeup for L'Oreal is enhanced by AI, which provides photorealistic graphics and calibration of virtual cosmetics shades on a customer's face. 
A similar function is available on a Maybelline cosmetics site. 
Revolutionize Your Home Decor with Umago's WebAR Furniture Try On
Umago is a Danish company that manufactures home furniture in the Scandinavian style. To increase online sales, the company implemented a WebAR installation, which allows a user to transfer a digital model of, for example, a chair, table, or couch in their room. Developers  used the Sayduck platform to demonstrate 3D furniture.
Thanks to the function, users can also observe AR furniture from all angles and customize them according to their tastes.  
Nike's AirMaxCloud WebAR Experience
To promote the new sneakers model Nike Air Max 2090, the company developed a mobile WebAR experience. The experience is about a user citing a smartphone screen to the sky, where a sneaker-shaped AR cloud appears.
A user taps on the cloud and activated video content with stories of famous dancers and athletes. The main purpose of these videos is to inspire Nike's main audience — athletes and those, who lead an active lifestyle.
After the implementation of the installation, Nike increased their income from selling Air Max 2090 sneakers by 32%, and the number of website visits increased by 22%.
WebAR has already proved to be a game-changer in e-commerce. With this technology, online shopping became easier and more accessible with customers trying on a digital version of an item or even customizing it according to their needs and personal tastes. WebAR also allows brands to highlight themselves and attract the modern audience with gadgets to their product in a more interesting, immersive way. Like, for example, digital interactive promo of the item that emphasizes its advantages and unique features.
Image: Freepik.
Related Articles