Virtual Tours of National Parks. Discovering Nature's Beauty through AR and VR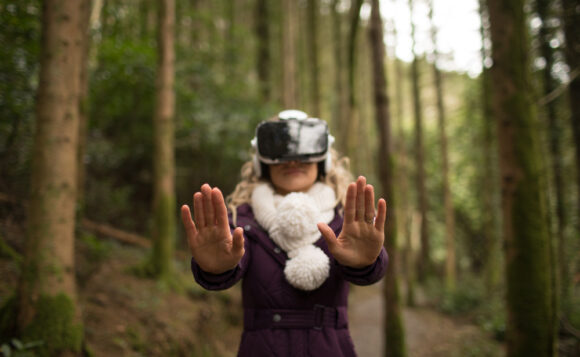 In this article, we will explore the impact of augmented and virtual reality on national parks, specifically how they are changing our experience of visiting natural landscapes. We focus on free virtual tours that allow us to see the beauty of national parks without leaving home. We will also reveal the main advantages of augmented reality, which enrich the visiting of real parks with the help of digital content with interesting information.
In particular, we will share our experience of creating tourist VR excursions using the example of the Carpathian Mountains Virtual Tour and Medieval Fortress Virtual Journey. We will also explore other famous AR/VR use cases, e.g., the State Parks of California, giving us a unique perspective on our national parks' historical and ecological significance.
Discovering Benefits of AR and VR in National Parks
Virtual and augmented reality offer such benefits to national parks as
Getting informative content on the spot. When visiting parks and other historical places, visitors usually don't know about this or that type of plant or even in which part of the park they are. With the help of an AR application, a tourist can simply point the screen at a particular plant and get additional information about it.
Read also: The Ways AR Redefines Modern Tourism 
Speaking about orientation in place, AR navigation will come in handy here, which guides the tourist in the right direction with the help of digital pointers.
Read also: From Outdoors to Indoors: AR Navigation as Game-Changer
Visiting places that aren't accessible for you. During the COVID-19 pandemic and home isolation, virtual tours of museums or national parks were one of the popular alternatives to visiting real tourist locations. Even though the pandemic began to gradually fade away, virtual tours continue to be relevant. By visiting free tours on museums or park websites, an Internet user saves money on the ticket, car fuel, and transportation. Especially when a person does not always have an opportunity to get to the place where, perhaps, he would like to go.

"The advantage is that you can go somewhere and experience the same feelings without leaving your home. Virtual guides have musical accompaniment, the effect of presence thus allows you to immerse yourself in the environment. This is all about VR. Plus, not all of us can go to Papua New Guinea or somewhere else to look at bamboo, baobabs, etc. Or go on safari. Therefore, these are opportunities to visit somewhere without spending additional funds," said Oleksandr Ivanov, project manager of Qualium Systems.

Drawing attention to ecology, rare plants and animals. As you know, there are more than

35,000 species

of endangered plants and animals in the world, 99% of which are endangered due to human activities. With virtual and augmented reality for parks that are the home for these species of animals, it becomes possible to tell about these endangered species to a wider audience. As of July 2023, there are almost 7 billion people in the world who have smartphones, which is

more than 86%

of the entire population of the planet. 
Qualium System's Virtual Tours of National Parks
Qualium Systems has great experience in developing VR excursions. Carpathian Mountains Virtual Tour is an application for Meta Quest, created as part of The World Of Carpathian Rosettes — Activities For Preserving The Cultural Uniqueness Of The Carpathians project by the Euroregion Carpathians — Ukraine association with the financial support of the European Union. The main goal of this program is to preserve the cultural uniqueness of the Ukrainian Carpathians.
The main challenge in the development of this virtual tour was to introduce more than 260 photo and video materials into the program while providing the VR headset users with such an experience as if they were visiting a real museum.
In this application, a tourist can explore virtual settlements in the Carpathians, both with the effect of presence in these settlements and from a bird's eye view. There is also the option of a "bicycle trip" available. A tourist can "ride" along the Franko route, which is a path in the forest, famous Ukrainian poet Ivan Franko liked to travel.
Also, our developers are working on another virtual tour of the medieval fortress in the Ukrainian town of Tustan. Unlike the previous tour, a VR headset user will not only be able to see the digital environment with exhibits but also interact with them.
"With the help of VR, you can not only be there, in that museum, but also take the artifacts, examine, bring them up to your forehead. You could see everything down to every crack," said Oleksandr Ivanov, project manager of Qualium Systems.
Unveiling Diverse Use Cases of AR and VR in National Parks
Our company pays attention to virtual tours and giving people the opportunity to see places that are inaccessible to them due to various circumstances. We constantly monitor the latest trends in the modern IT industry, and there are other famous examples that will be mentioned later.
Virtual Reality Adventures in California State Parks
The California Department of Parks and Recreation has introduced virtual and augmented reality tours for 9 parks located in the state of California. In the Virtual Adventurer mobile app, tourists get a guided tour that tells the story of each of the parks, including Colonel Allensworth State Historic Park, Montana de Oro State Park, Old Town San Diego Historic Park, and others. Moreover, futuristic holograms and 3D reconstructions are also involved.
"The app also supports and enhances the department's Reexamining Our Past Initiative by developing content for parks that tells a more complete, accurate, and inclusive history of people and places," said California State Parks Director Armando Quintero. 
Great Barrier Reef's Virtual Realms
As mentioned above, virtual excursions allow gadget users to get to places they would be unlikely to get to in real life. The same is true for the underwater attractions. Not every tourist wants to spend their time and money not only to reach, for example, Australia but also to train diving skills and buy a wetsuit with an oxygen cylinder.
In this case, one can explore the Great Barrier Reef in the 180 video format without the need to dive into the real ocean. This two-minute experience was created by ECOVR for Meta Quest. The main purpose of the virtual coral reef excursion is meditation and relaxation.
Free Virtual Tour to Ambrym Volcano
Short VR tours also come in handy when a user wants to see natural places that contain potential danger while sitting on their cozy couches. For example, you can explore a virtual tour in the 360 video format from Red Bull, which tells about a scientific expedition to an active volcano on the island of Ambrym, the Republic of Vanuatu, the South Pacific Ocean. The video is also accompanied by an audio narration that tells about the features of the Benbow volcano and how dangerous this expedition is.
Thanks to virtual reality tours, we can now discover the wonders of the pristine landscapes, whether we are physically present or miles away. Free VR tours of natural national monuments can deepen our understanding of the importance of preserving rare and endangered species of plants and animals. VR excursions also provide more knowledge and a clearer understanding of the ecological status and historical significance of national parks.
As augmented and virtual reality continue to evolve, their potential impact on strengthening the bond between humanity and nature holds promise for the future, inspiring us to become better stewards of our beloved national parks and the environment as a whole.
Image: Freepik
Related Articles