Boosting Productivity and Mental Health. XR Technology And Apple Vision Pro's Potential Cases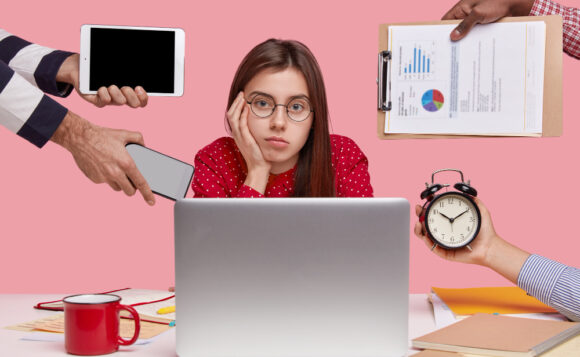 When presenting the newest AR/VR glasses Vision Pro, Apple positions it as a device for entertainment and remote work through video conferencing and virtual offices. However, there are opinions that Apple Vision Pro can be useful not only for entertainment and games but also, for example, for increasing the productivity of an employee. This means caring for mental health, acquiring new knowledge, and honing old skills.
Read also: Elevating Spatial Computing. Examining Technological Feats of Apple Vision Pro, Magic Leap, Meta Quest Pro, and Microsoft HoloLens 
In this blog post, we will cover the basic concept of productivity and its main components. We will also consider examples from the field of XR, which are aimed at supporting human productivity.
Enhance Productivity through XR Self-Development
By the word "productivity" we usually mean a person's ability to stay fit, as well as his ability to perform basic work tasks and be creative. The problem of productivity still remains relevant, as in the US only 33% of employees are interested in fulfilling their work duties.
How can you solve the problem of interest and efficiency of your own work? There are several main components that support the productivity of a self-developed person:
Ergonomics of the workplace

Continuous self-development and education

Physical support of the form

Support of psychological health

Organizing workplace with XR
The first step in optimizing your work is improving your workplace. Completing your tasks becomes much faster and more efficient if the workplace is more sophisticated, and the person is isolated from various factors that distract them from work.
According to National Association of Professional Organizers, a poorly designed workplace is a serious problem for employees in various businesses. Yes, 91% of workers said they would be more efficient and productive if their workplaces were better organized.
An optimized workplace will allow a person to do work not only faster, but also better. And in this case, XR offers users several solutions for organizing the workplace:
A virtual office is a fully immersive digital environment in which a person is completely isolated from various distractions. Also, the user of a VR headset can use the functions of creating a comfortable working environment (from a digital copy of the office to more non-standard, fantasy settings) and make the workplace more ergonomic by creating additional digital screens, panels with applications, etc. Such functions are offered by VR-office Immersed.
Read also: How virtual reality makes remote work more convenient 
Mixed reality solutions are another method of improving remote work. This option is suitable for those who aspire to make their workplace more ergonomic but do not want to completely isolate themselves from the outside world. For example, the well-known Meta Quest Pro has the function of overlaying digital screens on an already existing device, like a laptop, for example.
Read also: What's The Difference Between VR, AR and MR 
How XR Transforms Self-Education
The next way to improve the efficiency of your work is constant self-education and skills development. A person is also able to keep themselves in shape not only by consolidating old skills but also by learning new knowledge that will improve the quality of work. XR learning courses can be of help through several criteria:
Realism of simulations. With the help of XR-gadgets, a student is able to learn new information in the most realistic environment, reproduced in a digital space;

Emotional connection. Being offered a greater number of opportunities to interact with the content being studied (an opportunity not only to see and hear it but also to interact with digital elements), a person not only gets acquainted with new material but also better realizes and understands it with the help of illustrative examples;

Situational learning. Instead of reading books with theoretical material, a student sees the situation with his own eyes and better understands the learned content.
In addition, learning courses in virtual and augmented reality also increase the employee's confidence in their knowledge and skills. According to PricewaterhouseCoopers, the level of employees' confidence in their skills is increased by 275%, and training time on AR/VR devices is reduced by four times.
A good deal of VR/AR training for employees are offered by companies to improve employees' efficiency and increase their productivity. However, speaking about self-improvement, for example, a freelancer or remote worker can independently choose courses both for general education and comprehensive development. For example, if a person works with foreign partners and has to communicate with them every day, foreign language courses will come in handy.
One such course is Global Academy XR's Simmula for Meta Quest. These virtual courses are designed to improve the level of English, as well as confidence when speaking a foreign language. During these courses, a student wears a VR headset and immerses themselves in a virtual environment where they communicate with other students using digital avatars. The main goal of these VR English courses is more effective language learning with increased concentration and interest due to the fact that the student collaborates with other people in a digital immersive environment.   
Harnessing XR for Physical Well-Being
Many experts recommend constant physical activity for employees, in particular those who lead a sedentary lifestyle. After all, it has been proven that regular exercise has a positive effect not only on well-being and tone but also on mental health. According to the University of Bristol, employees who regularly engaged in physical activity reduced their stress levels by 33% and also improved their ability to cope with stress by 46%.
Thus, remote worker or freelancer can improve their physical and mental well-being with the help of virtual training. Despite the fact that a VR headset user trains in a completely virtual environment, they receive real loads. Immersive digital reality fully reproduces the place of training in which a person engages in physical activity as if they were doing it in a real gym. For example, a person can punch a virtual punching bag, lift a dumbbell, or kick a ball.
"Virtual reality games aren't always marketed as exercise, but our research shows that when you play them, some can deliver the workout equivalent of walking on a treadmill or cycling on a stationary bike", said Jimmy Bagley, Ph.D., an associate professor of kinesiology and research director of the Strength and Conditioning Lab at San Francisco State University. 
One of the VR apps that Dr. Bagley recommended for training is Supernatural for the Meta Quest headset. This program provides the user with a large selection of training: from boxing to yoga to stretching.
Empowering Mental Health through XR
A key way to keep yourself fit is your mental health work. This also includes the development of stress resistance, prevention of burnout at the workplace, etc. In recent years, burnout at work is a common phenomenon, which is one of the reasons for dismissal from work. 84% of millennials say they have experienced burnout at their current job, and half of millennials surveyed said they left a job due to burnout. 
VR therapy is a proven way to prevent burnout. Its main advantage is that a person is distracted from the usual workplace and quickly changes the environment by putting on a virtual reality headset and immersing themselves in the digital space.
Exhale XR | VR Wellness is an example of an VR app to prevent burnout at work and support mental health. With this program, users are distracted from the main irritants at the workplace and are transferred into virtual reality. The main setting resembles an ancient altar, which is located in the middle of a darkened fantasy forest. The app includes not only a direct option for meditation but also other types of activities to calm and support mental health: breathing exercises to relieve stress, improve sleep, and relax. With VR glasses, a user can also walk around the area, see the lake, and engage in other activities: hit a virtual bong, release a firefly from a jar, shoot a bow, etc. 
Integrating extended reality into the work routine improves productivity as well as supports mental health and personal development. As it has already been proven, virtual training, meditation, and training courses can effectively increase the productivity of an employee at the workplace and keep them in a resourceful state. If a person is able to independently create an optimal and ergonomic workplace with the help of digital technologies, their performance goes up.
And given the prospects that Apple Vision Pro can provide, the development of virtual, augmented, and mixed reality in the field of productivity support will still go on.
Image: Freepik
Related Articles