Augmented Reality Meets Real Estate: Enhancing Property Experiences Like Never Before
May 29, 2023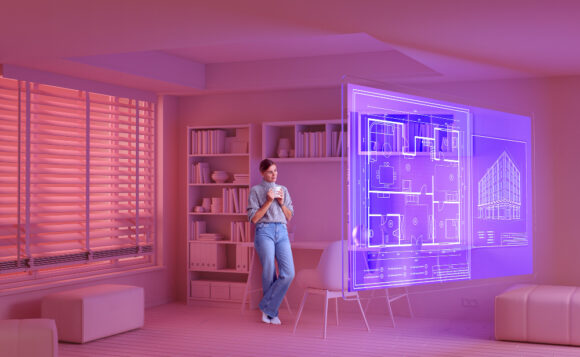 Thanks to the combination of digital technology and real estate, augmented reality has become the tool that has changed the way we observe, improve, and sell real estate.
According to a study by Deloitte, 50% of investors believe that AR should be a priority in real estate.  
In this article, we will look at a variety of augmented reality solutions in the real estate sector, from virtual tours to simplified service processes. We will also look at notable examples of augmented reality applications for real estate and discuss the profound impact that AR has on revolutionizing the showcasing, design, and management of real estate.
Bridging the Gap Between Virtual and Physical Property Experiences
The first way augmented reality is used to sell real estate is to visualize a design, superimposed on a real room. So, imagine you are planning to buy a new house or apartment, but the property that the realtor shows you is not renovated.
To improve the presentation of the home, the realtor uses the camera of a portable gadget to demonstrate various interior design options on the bare walls and floor. Using AR, buyers can complement their future apartments with digital home decor elements (from furniture to wall color and floor type) to get a better understanding of what their apartment will look like.
"We do this by creating a trigger point inside a home, which an augmented reality app will scan and bring up whatever image or video we choose," said Kyle Rank, Vice-President and Managing Brocker in Fonville Morisey Realty.
From Virtual to Reality: Augmented Reality's Impact on Property Visualization in Real Estate
As a rule, virtual tours are used in two cases: if the client does not have the opportunity to go and see the real property, or when the client is offered a project of a future building or an apartment.
The first option offers a client a presentation of his own room or house on his desk, through the screen of the gadget. Another advantage of AR viewings of digital real estate is that the customer has unlimited time to view it. While visiting a real house or apartment with a realtor, he has from 15 minutes to an hour to inspect everything, depending on the size and nuances of a type of property.
For example, Vossle has developed an AR presentation in which a smartphone user can zoom in and view a digital model of a room from the inside.
To create this experience, WebAR technology was implemented augmented reality for browsers, which is actively used in the field of sales, for example, in e-commerce.
Speaking about the second option, a customer has the opportunity to see the future digital house in the real area. Thus, a client not only understands how the finished building will look, but also how well this building will fit into the real environment.
Realar Places is one of the examples of AR real estate tours. In this experience, a smartphone user overlays and "visits" a digital home superimposed on a real-world location.
"Realar brings any home design to life right there in front of you in 3D without the need for extra equipment. It allows you to visualise the home as if you were standing outside a real building and then go inside to get the full room-by-room experience," said Dan Swan, Realar co-founder. 
AR Real Estate Management: Innovations for Landlords and Tenants
Once your customer has purchased their home, they have a possibility to report issues directly to the company's representatives if something wrong happens in the house or apartment. And augmented reality greatly facilitates the communication process.
The customer can not only verbally report defects in the construction of the house (including problems in the electrical network and sewage), but also visually show this defect by scanning the problem area with the help of an AR program, leaving digital notes that explain the problem. Meanwhile, service center staff can remotely provide digital guidance to help resolve the issue quickly and efficiently.
AR program from Fixzy Assist is one of these use cases. The company's employees remotely help tenants and homeowners with solving problems, from a broken water pipe to fixing an Internet cable. The program, which does not require installation on the device, has already proven its effectiveness. So, after its implementation, downtime was reduced by 95%, and customer service improved by 19%. 

Unlocking the Power of AR in Real Estate: From Data Collection to Business Intelligence
With the help of augmented reality, real estate companies can collect and analyze data received from their customers. For example, AR app receives data when a user points the camera to a certain part of the digital room or house. It also monitors the convenient of the application and which real estate models customers pick (if the application allows them to choose several options).
This real-time data helps to improve the real estate AR application. Also, AR applications allow companies to make business decisions regarding the sale of real estate according to such criteria as:
Demographic information. For example, by age, gender, marital status. Singles will probably want to buy a small one-room apartment, while a family with several children will be more comfortable with a large house or multi-room apartment.

The main trends of the market. The list of the most popular designs of houses and apartments.

What characteristics of real estate do customers pay attention to? This includes not only the most fashionable interiors and exteriors but also the functionality of the real estate: type, construction, area, number of rooms, materials that are used in the building, etc.
Augmented reality has certainly revolutionized real estate sales, offering a number of benefits that enhance the industry. From virtual tours to remote AR consultations, augmented reality in real estate has become a convenient tool for buyers and realtors. The implementation of AR makes the presentation of a house or apartment more understandable and exciting. Customers can better see and modify the designs of their future house or room in digital format. As augmented reality continues to evolve, we can expect further innovations and solutions that will improve the efficiency of real estate sales and make the buying experience more immersive for customers.