AR and VR podcasts you should pay attention to right now
February 15, 2023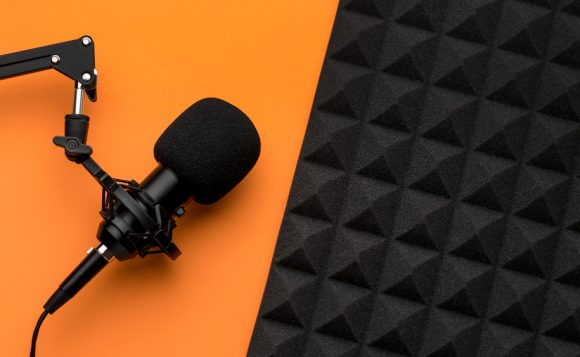 Are you looking for ways to stay constantly updated with the latest news about the extended reality? In this case, we can recommend you some captivating AR and VR podcasts, if you like to listen to audio news and interviews.

Previously, we wrote an article about trendy VR YouTube channels. 
YouTube XR podcast by Upload VR is published twice a week — on Mondays and Thursdays. VR Download is also available in audio format on Apple Podcasts, Google Podcasts, Spotify, and other streaming services.
The main host of the podcast is Kyle Riesenbeck, Operational Manager at Upload VR. 
The podcast has two main directions: 
Weekly news podcast issues, which are usually released on Mondays at noon PST. Riesenbeck with other co-hosts discusses the latest updates in hardware development and current XR industry trends.
Gamescast issues, which are released every Thursday at 10:30 PST (20:30, according to Kyiv time). In Gamecast, the hosts discuss the recently-released VR games, narrated experiences, etc.
An interesting fact: the podcast is fully recorded in virtual reality and the hosts themselves use digital avatars via Oculus Avatars SDK.
It's an augmented reality podcast that collaborates with AR Insider and, primarily, highlights the latest tendencies of smart glasses development. Every The AR Show issue is released, at least, once a week, and is available for listening and downloading right on the podcast's official site.
The AR Show host Jason McDowell is Ostendo Technologies VP Product, Head of Visual Experience, and Amplify.LA mentor.
McDowell believes that AR glasses will have a much bigger impact on a human and the community than smartphones, PC, or the internet. He thinks smart glasses can transform the human brain-physical world interaction and reduce the time of searching the information on the spot.
In every podcast issue, the host interviews company representatives that develop smart glasses and other AR-related technologies. They discuss various implementations of augmented reality in education, sport, healthcare, etc.
In addition, AR Insider and Upload VR are included in the list of online media we recommend reading.
It is a  virtual reality podcast about games that comes out, at least, once-twice a week. You can listen to the podcast on the Ruff Talk VR site and on many streaming services, like Apple Podcasts, Spotify, Overcast, iHeartRadio, etc. The podcast is also available on YouTube in video format.
The Ruff Talk VR hosts are bloggers-enthusiasts, known by nicknames Dscruffles (son) and Stratus2k1 (father).
In every issue, the hosts review the latest VR games and other apps from Oculus Store and App Lab. Dscruffles and Stratus2k1 explain gameplay and discuss every advantage and disadvantage of the reviewed game with small miscellaneous talks. In the end, the hosts announce the final review score.
The Ruff Talk VR hosts also interview game developers and post VR morning news issues every Monday.
A weekly VR/AR Association podcast that is available on VR/AR Association website and other streaming platforms like Apple Podcasts.
The hosts of Everything AR & VR are Tyler Gates and Sophia Moshasha. Gates is a Brightline Interactive General Manager, Chief Futurist at the Glimpse Group, and VRARA DC Chapter President. Sophia Moshasha is a metaverse and Web 3.0 strategist and DC Chapter Vice President VRARA.
The podcast hosts interview technologists and companies representatives regarding their working experience in virtual and augmented reality in different fields like games, entertainment, healthcare, education, military, hardware and software development, etc.  Everything AR & VR guests and hosts also discuss the latest tendencies of XR development in governments and enterprises.
By the way, a few months ago, Qualium Systems officially joined the VR/AR Association, which currently unites more than 4300 organizations. 
Voice Of VR is a weekly podcast about virtual and augmented reality development, founded in May 2014. The podcast is available on its official site and streaming platforms like Apple Podcasts.

The podcast host Kent Bye is a philosopher, experimental journalist, and oral historian, that tries to define patterns of immersive storytelling, experimental design, and the potential of extended reality development in general.

In every issue, Bye interviews various developers, storytellers, designers, and other specialists, that work on XR and related technologies like metaverse, for example. The podcast also covers discussions of the latest news of hardware and software development.
Full Dive Gaming is one of the virtual reality news podcasts available on different streaming services, like Apple Podcasts, Spotify, Deezer, etc. The podcast is also available on YouTube as a video channel.
In every Full Dive Gaming issue, blogger Jay Bratt highlights the latest virtual reality news. Usually, Bratt discusses the news with the hosts of other podcasts.
The podcast is divided into three sections: VR gaming news, game reviews, and VR games-related discussions. 
Field of View Podcast is a project of non-profitable VR/AR/MR organization AIXR (The Academy of International Extended Reality), developed in collaboration with Accenture. 
You can listen to every issue on a podcast webpage on the academy site. Field of View Podcast is also available on Spotify, Apple Podcasts, and on YouTube. You can also find the podcast transcription on Accenture site.
Daniel Colaianni and Nicola Rosa are the hosts of the podcast. Colaianni is AIXR CEO, and Rosa is XR Lead Europe and Immersive Learning Lead in Accenture.
The podcast main topics are metaverse, virtual and augmented reality, web 3.0, and other technologies. Rosa and Colaianni periodically interview representatives from worldwide-known companies like Disney, HTC, Audi, NVIDIA, etc.
In one of the latest issues, the hosts talked to Louis Rosenberg about artificial intelligence in metaverse. You can find his article about metaverse potential in our previous article.