Qualium Systems Records A New 5-Star Rated Review On Clutch
October 6, 2022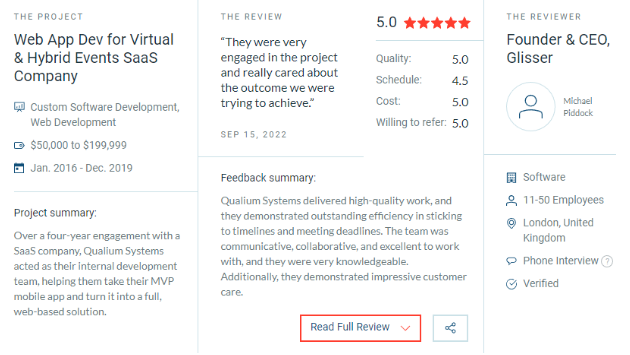 We know the world through our senses and perception systems. At a young age, we all learned that we have five senses: taste, touch, smell, sight and hearing. These are, however, only our most obvious sense organs. In today's tech-driven world, we spend much time looking at screens. Computers, smartphones, and televisions have become a big part of our lives. Virtual and augmented reality are two technologies changing how we use screens, creating new and exciting interactive experiences.
At Qualium Systems, our mission is to make Immersive technologies accessible and understandable for every small and large business. We are a high-end software development company creating AR/VR/MR, Mobile and Web applications for digital agencies, startups and enterprises. We provide our clients with a complete software production cycle: detailed discovery and business analysis, technical research, design, software development, QA, maintenance and support.
We recently received a 5-star rated review on Clutch, a B2B ratings and reviews platform. The feedback came from Glisser, a virtual events SaaS company. We helped the client expand their development team to build the second version of their product. Our task was to convert the prototype product from an iOS and Android app into an entire web app.
"Overall, working with Qualium Systems was excellent. My CTO and UX designer spent some time over in Ukraine with them and got together very well, which made things very easy. Additionally, we used email and Slack to communicate, and we had video calls once per week." – Michael Piddock, Founder & CEO, Glisser
Qualium Systems is featured as a leading company on Top Design Firms, naming us a top VR company. A sister company to Clutch, Top Design Firms compiles and organizes companies offering marketing, design, and development services. It aims to help buyers find the right company for their project.
It's always delightful to receive such a lovely review from our clients. We always drive ourselves to give quality services to our clients, and we are thrilled to see them succeed in their endeavors.
We help businesses add value to their services and products with Immersive Technologies. Work with us now!