Extended Reality Solutions For HR Department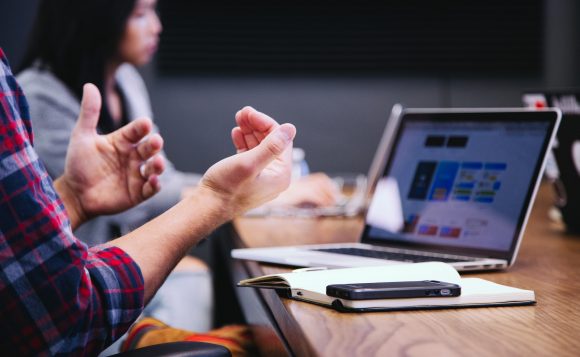 Extended reality is an umbrella term, that unites virtual, augmented, and mixed realities. You can read more about the technologies and the difference between VR, AR, and MR in the previous article. 
Companies like BMW, British Telecom, and Jaguar Land Rover apply XR to implement VR excursions for applicants, virtual reality training for workers, virtual offices, etc. 
HR departments use extended reality to simplify hiring employees, accelerate their integration in their workplaces, and increase their work efficiency. For example, General Electric has increased its workers' productivity with extended reality by 34%. 
How To Apply XR In Recruitment
Innovative technologies are more often used for hiring staff. According to PwC data, 65% of respondents said, they would like to accept a job offer if they would have tried their workplace in virtual reality. In this case, there are few directions for using XR in recruitment. 
Extended reality is used by applicants to get aquatinted with their future workplace. British IT company Workforce WindsorEssex developed for Canadian company Brave Control Solutions 360o a video guide for those who want to get employed as an engineer, technician, or designer. Candidates can see the Brave Control Solutions office building, get acquainted with different department heads, and learn more about their duties in the video. 
After the first interview and excursions, recruiters test the working and soft skills of applicants. For example, Jaguar Land Rover, in collaboration with the popular rock group Gorillaz, used extended reality to design spectacular test tasks. The famous automotive company released an MR app, designed for testing talents in software engineering, app development, cyber system development, and graphics performance. Using smartphones, the candidates could break the code in the group's virtual garage. 
In the first part of the mission, participants are involved in the assembly of a virtual model of the company's first five-seated all-electric sports car Jaguar I-PACE and explore more detailed characteristics of the model. In part two, the candidates solve a number of puzzles, where they should break the code to pass the test. This app is designed to test traits of future Jaguar employees, like curiosity, persistence, problem-solving skills, and non-standard thinking.
Improve Your Remote Workplace with XR
A virtual office is a digital place, where people work and interact with each other, using digital avatars. Now, according to OSlash, 10% of respondents are already working full-time in a metaverse, and 75% of respondents said they're interested in getting this job. 
VR offices are used by freelancers, remote workers, and those who work in early startups and companies that have plans to extend their network. 
Employees can customize their virtual workplace according to their duties and personal preferences: providing additional screens, isolating from different distracting factors, and choosing the most comfortable location for a VR headset user. VR office can recreate, for example, a real office building and an unusual, fantasy location. You can read more information about virtual reality offices here. 
Our company has experience in developing a virtual office at a company's request. Oleksii Volkov, Qualium Systems XR department head, told about the experience of designing the VR office. According to him, our company developers aspired to create a photorealistic office with the possibility to download employees' own photos as their digital avatars. The virtual office conference hall, workrooms, cantina, corridors, and other rooms, VR headset users can walk through.
"Our main targets are to provide  users with a number of tools, that allow them to participate in meetings and discussions  in a virtual office. And this process should be the most similar to real meetings and discussions. But how can we achieve that effect? We need to expand the range of instruments as much as possible. For example, employees should see each others' gestures, in addition to  video and audio communication. There should be a possibility for them to draw something on a board and show the documents. It all must  be within one space, and that's why it's called a virtual office" – said Oleksii. 
You need a virtual reality headset to work in a virtual office, and  devices designed  for enterprises are the best solutions. Depending on company needs and budget, there are headset models that you can connect to a computer, smartphone, or other devices that work autonomously. But some specialists pay attention to the new VR headset for metaverse Meta Quest Pro, presented at Meta Connect 2022. The new headset has additional eye-tracking cameras inside, and its new design allows users to see both virtual and physical worlds.
"We're building a better way, using everything Quest Pro brings to the table. And we call it "magic room". It lets you meet in mixed reality and share the same space. You can use a whiteboard, and bring in 3D objects. Everyone is present and has the same tools, whether they're in full VR or in mixed reality. We think that this will help hybrid teams collaborate and we're hoping to ship this next year," said Mark Zuckerberg, Meta founder, in his video presentation.
Upgrade Your Worker's Skills With VR Training Courses
To improve the workers' efficiency and safety, every enterprise provides instructions and training. And some companies successfully apply AR/VR, which is already proven to be efficient for these means. So, after the XR training, learners are capable to acquire 70% of the necessary skills. 
Here are some types of extended reality training:
Real workplace simulations, where people can train their safety skills.

For example, Roundtable Learning developed a virtual training for café staff. A user in a VR headset learns how to handle a client, who turned out to be a robber. Using a CGI character, this program recreates a more realistic robbery experience.
         According to Roundtable Learning director Patrick Manglano, there are five biggest advantages virtual reality can offer to soft skill training: 
VR emotionally triggers learners during training.

In virtual reality, learners get their new skills four times faster.

VR training can be applied in combination with other types of training.

VR can delete obstacles in remote workers' communication.

Virtual training is consistent and excludes the difference between nominal training settings and actual work.
VR training to improve work with equipment.

BMW developed virtual workplaces for car factory workers. In this VR simulation, they can learn how to preassemble the cockpit before its installation in the vehicle.
"Virtual reality technology has enabled us to set up cockpit preassembly workstations quickly and efficiently. Time-consuming trial installations that replicate the workstation in its actual dimensions were no longer needed. We were more transparent, more flexible and faster overall," said Matthias Schindler, responsible for Virtual Planning and Implementation in Production at the BMW Group.
360о videos for soft skill training.

Warp VR developed its own 360

о

training for  British Telecom retail staff. The primary purpose of the training is learning and assimilation of communication skills with customers. Notably, in this video, a VR headset user can learn how to handle a client who asked for a refund. 
"By playing this interactive Virtual Reality training, the retail staff is more confident in interacting with customers. They are taught how to tackle customer questions which translates to improved customer satisfaction and sales," said the narrator in the video. "This VR solution enables British Telecom to train not only more often, but also at those moments that work best for the stores. Staff can be trained before the store opens, in off-peak hours, or after it closes".
So, we have already found out about how many possibilities extended reality offers to an HR department.  XR provides the possibility to hire new employees more effectively. Moreover, with VR offices, you can create a more comfortable workplace for remote workers. And last, but not least here is an improved and more effective technical and soft skills training. 
Related Articles