Elevating Hospitality: Evolution of VR in Hotels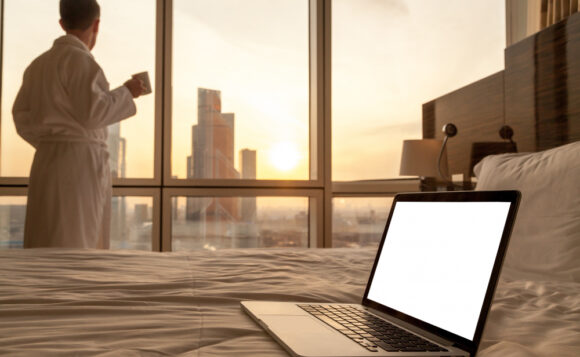 Today, modern technologies provide incredible opportunities in numerous areas, including the hotel business. This technology creates a deep connection between the guest and the hotel, overturning the usual idea of hospitality. Virtual reality allows you to surprise guests with immersive unique experiences that are not only exciting but also facilitate the activities of the establishments themselves.
In this article, we'll look at how virtual reality revolutionizes the hospitality industry and helps to deliver unparalleled guest experiences.
Exploring Diverse Dimensions of VR in Hospitality
There are several main areas where virtual reality is most often used in the hotel industry, including virtual tours, staff training, and VR entertainment. 

Enhancing Guest Experiences through VR
VR hotel tours are one of the most popular directions where virtual reality is typically when dealing with  hospitality. Before checking in, guests can take a trial visit to the property in VR to assess the hotel environment. This technique will help to better understand where exactly they want to stay, in which room, and whether this hotel meets the requirements.
"One of the reasons why VR marketing has taken on a viral tone, arises from the fact, that guests will be provided with a hands-on point of view when making an important booking decision. Using such technology clearly illustrates that the property in question is keeping abreast of the latest digital trends. Today, VR tours can be easily placed on an online platform, through the rise of cost-effective software packages," according to Keystone Hospitality Property Development.
For example, the Atlantis Dubai Virtual Tour shows future customers what the hotel looks like, starting with the exterior and ending with the appearance of the hotel rooms. The experience was filmed in the 360o format.
Thriving Frontier of VR Entertainment in Hotels
Once your guests have checked into their hotel rooms, they should receive high-quality entertainment offered by the hotel chain itself. These can be virtual reality rooms for guests to spend their free time.
For example, the Polish spa resort Czarny Potok also has a virtual reality room where visitors can play various games in VR headsets.
In addition, virtual reality can be used as a preview of real entertainment available. Before your guest tries, for example, sightseeing, they can get a preview of a tourist destination they could go to. Consider a VR tour of the ancient city of Petra in Jordan.
Read also: Virtual Tours of National Parks. Discovering Nature's Beauty through AR and VR
Navigating Future of Hotel Reservations through VR
Another area of virtual reality that is developing in the hotel industry is VR booking. Similar to virtual sightseeing, a user can see the chosen vacation spot for themselves, though the range of possibilities of VR booking is wider. 
So, a VR headset user sees a digital globe of the Earth in front of them and decides on the point where they want to go. Next, they interact with a 3D model of the plane, which clearly shows the seats that can be reserved. Moreover, there is an opportunity to rent a car and choose the price of this rental. With virtual booking, users can select a payment method by scanning and adding a digital credit card.
Virtual booking from Amadeus IT Group provides such options to users with VR glasses.
VR's Role in Transforming Hotel Staff Training
In the hotel industry, virtual reality is used not only to serve customers but also to improve customer service. Virtual reality training, which fully reproduces the real work environment in digital reality, is an effective tool to improve the efficiency of hotel staff. For example, the Best Western Hotels chain recorded a 71% decrease in the number of customer complaints after the introduction of VR training.
Virtual training is already used by the famous Hilton network. In this training, employees use VR headsets to immerse themselves in the digital space that reproduces the hotel.There, they perform various tasks typical for the hotel staff: cleaning the room, preparing a cart with lunch, and checking in guests. 
The integration of virtual reality marks a revolutionary step towards improving the guest experience and redefining the hospitality industry. With the introduction of virtual reality in hotels, guests are no longer limited by physical boundaries. Virtual tours of hotels and attractions allow them to go on exciting journeys and explore these places without leaving their homes. Once a decision is made, users can completely organize their own trip through VR booking in a gamified form. Virtual reality in the hospitality industry has also paved the way for more comfortable and faster service with the help of VR training for hotel staff.
The combination of technology and hospitality has created a new dimension of travel planning where potential guests can virtually walk through hotel rooms, imagine their stay, and make informed decisions.
Image: Freepik
Related Articles