Boosting Performance and Customer Service: VR Impact on Training in Retail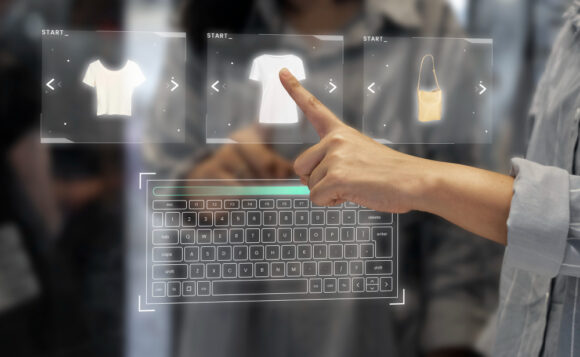 By harnessing the power of virtual reality, businesses are transforming and enhancing their training programs, equipping employees with the skills they need to succeed in the workplace. Companies use various simulations that recreate real scenarios at work: from a normal dialogue with a buyer to an emergency situation. VR training is already successfully implemented by such retail giants as Walmart, Super Retail Group, Goodwill, IKEA, etc.
In this article, we will tell you how virtual reality is used to train retail employees and how VR improves work efficiency.

Empowering Retail Staff: Benefits of VR Training
Famous brands are increasingly paying attention to VR training for trade employees due to a number of the following advantages:
Increasing involvement in the work process. It has been proven that virtual training can increase employees' concentration on the work process and increase their interest in completing tasks. This is all because, first of all, virtual training is conducted in an immersive environment that maximizes the real workplace. And, secondly, training in VR is an interesting and gamified process that will increase the level of task performance.
Reducing training time. By using virtual reality, companies spend significantly less time on preparation and the training process itself. You don't need to create the necessary conditions on the spot yourself. The necessary realistic scenario is already ready in the VR glasses. Instead of conducting long briefings, an employee wearing virtual reality glasses receives visual prompts and options for the development of events. Thus, the duration of training for employees is reduced from several hours to 25–30 minutes, if not less.
Safe and controlled environment. While going through VR training, company employees hone their skills in a safe space where they can make mistakes and learn from them without affecting real customers. The instant feedback provided in VR simulations enables employees to understand their strengths and areas for improvement, leading to continuous skill development. With VR employee training, companies can develop a customer-centric culture, equipping their employees with the necessary skills to deliver exceptional service and create memorable experiences for their customers.
Key Focus Areas of VR Training for Employees
Welcome to the Future: Enhancing Retail Onboarding with VR Training
So, you have hired new employees who need to be familiarized with the workplace. In order to quickly adapt newcomers to the work in your company, employees of the HR department can simply hand over VR glasses with a workplace simulation.
It has already been proven that virtual training with visual indicators and text prompts accelerates the acquisition of new skills and the process of adaptation to a new workplace.
For example, the famous Swedish brand IKEA, which is known for its XR experiences, introduced virtual training for newcomers during Talent Focus Week a few years ago.
During the event, those who want to work at IKEA could find out more information about the company through a cardboard VR headset. They could also choose any department in which they want to work, get to know the team, and learn more about the basic principles of work in the digital space.
Read also: Extended Reality Solutions For HR Department 
Mastering the Human Touch: VR Soft Skills Training for Retail Employees
Through an interactive, immersive experience, VR training enables employees to develop essential communication skills. There are several areas of soft skills training for employees: team management, development of stress resistance, ability to resolve conflicts, development of tolerance for different employees, etc. Thus, it will be easier for the employee to join the team and better understand the working atmosphere.
So, Roundtable Learning, a well-known developer of VR training, released another simulator in which an employee learns to be a department head. For example, this simulator contains a scenario where you have to resolve a conflict within your team and take responsibility for making decisions and calming down your employees.
Another case for the development of soft skills is VR training from Goodwill and Virtical Reality. In this training, employees of retail outlets wearing VR glasses seem to be in the place of the buyer and evaluate the virtual seller based on external characteristics. The main task of this training is to show employees the correct appearance and teach them to follow the rules of hygiene. In particular, this case was created to comply with the rules even during the COVID-19 pandemic.
Elevating Customer Service With VR Training in Retail
VR training promotes the development of interpersonal communication and problem-solving skills with clients as well. Company employees participate in virtual interaction with simulated customers, receiving feedback on their performance and improving their skills in a controlled environment.
In virtual reality, company employees can hone their customer service skills in various scenarios: both during a normal purchase and during more stressful circumstances such as a big sales period.
For example, the well-known shopping brand Walmart introduced VR training for store employees, where they learn and hone their skills in dealing with customers during the Black Friday sale.
During this training, an employee wearing VR glasses works with virtual customers in a separate room under the supervision of senior employees who monitor the performance of tasks through computer screens.
Revolutionizing Product Education: VR Employee Training in Retail
Another type of virtual training is instruction on the study of different types of goods. By going through this training to study the products, the sales point employee can quickly learn the characteristics of each product and better orientate himself on which product and for what needs it is needed.
For example, ReadySetVR has developed virtual training for supermarket sellers, one of the functions of which is to work with goods. In a digital environment, a worker examines different types of goods, from food products to household chemicals, and learns to correctly arrange them on virtual shelves using controllers.
Safety First: Enhancing Retail Employee Training
Safety training is key to every industry, from hazardous manufacturing to usual shops. Emergencies can happen anywhere, such as a cabinet falling on an employee or a chemical spill. Virtual reality allows you to think through all possible scenarios of dangerous cases. Workers wearing VR glasses can hone algorithms for behavior during an emergency situation and bring them to automaticity.
The Australian company Super Retail Group has already successfully implemented VR training for warehouse workers who have to learn safety rules during the transportation and storage of goods.
The essence of this training is that an employee wearing VR glasses must find six hidden dangers that wait for them in the virtual workplace. The employee must show all attention and concentration, as some problems may happen behind their back.
Read also: How To Improve Your Manufacturing With VR Training 
Due to the immersion effect, VR training in retail develops basic communication skills and develops customer-oriented thinking and consolidates knowledge about certain products. This technology offers the most realistic learning environment where employees practice and improve their skills in simulated real-world scenarios, increasing confidence and competence in the sales force.
With virtual training, businesses create a workforce that is not only knowledgeable, but also responsive, adaptable, and skilled in providing high-quality customer service. Harnessing the potential of VR training in retail is a strategic investment that paves the way for increased productivity, increased customer satisfaction, and ultimately the effectiveness of the retail enterprise in a dynamic and competitive marketplace.
Image: Freepik
Related Articles