5 most interesting VR solutions in 2022
September 13, 2022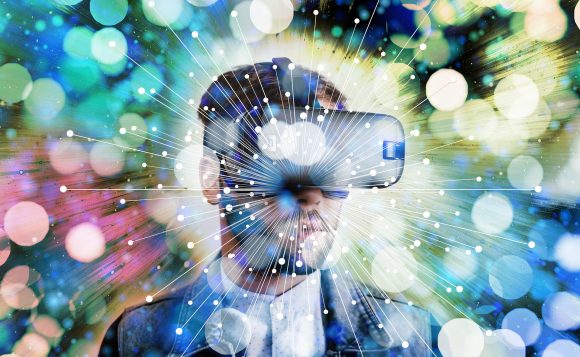 Virtual reality is an artificially created 3D environment which makes an illusion of our world. In the beginning, this technology was mostly applied for games and other kinds of interactive entertainment. However, virtual reality found its application in many other fields like healthcare, education, military, space domain, etc.
In our previous post, we talked about 5 interesting solutions in AR for different fields in 2022. In this blog post, we would like to talk about 5 solutions in VR that deserve your personal attention.
VR in Education (Mondly VR)
VR technologies with immersive effects do not just improve the process of learning languages but also helps to break the language barrier. 95% of learners were proved to fail at learning English due to irresistible obstacles. The main reasons for their failure are the lack of language practice beyond lessons and instructed setting with a limited number of sessions (2–4 per week).
Mondly, a world-famous company, developed a VR application for learning foreign languages. It contains different real-life simulations where the studied language can be applied: taxi, restaurant, train, hotel, etc. The user can communicate with virtual characters and gradually develop their language skills.
VR in Art and Exhibition (VR Louvre)
Thanks to VR technology, there is a new possibility to show museums and exhibitions from a completely different angle:
VR museum visitors are four times faster to get emotionally connected to the material of certain historical age;
VR recreates some historically important places which don't exist physically anymore;
visiting VR museums is completely free of the disadvantages of the real institutions: the lack of time for one historical piece, a huge crowd of people, and long lines near the entrance and ticket office.
The Louvre in Paris became one of the first museums with its own VR program for distant visitors around the world. The authors of this program have completely recreated the museum's three wings: Denon, Sully, and Richelieu.
In Denon, a user with VR goggles can admire da Vinci Mona Lisa's digital version. There are more than 35 thousand pieces of exhibition recreated in VR Louvre, from 6th century BC up to 19th century.
VR in Trainings (Virtual Speech)
As far as we know, modern VR makes company workers' training faster and more effective. According to the statistics, trainees are 50% faster to get new skills during VR training. Also, workers feel 40% more confident at applying new working skills after VR courses.
Virtual Speech created special VR courses for improving speech and self-representation skills. Virtual Speech lets students learn through self-paced classes. The student gets through online courses with theory and practice of self-representation, leadership, marketing, sales, etc. Next step — VR practice with instant feedback.
Virtual Speech has more than 25 different courses with more than 50 different tasks. Now, more than 350 000 users from more than 130 countries are currently using this program.
VR in Cinema (Oculus Studio)
Cinematography is another field, significantly influenced by VR technologies. Starting from 2009's Avatar release, the world movie industry attached high priority to 3D, which allows immersing the audience in their movies.
It's quite possible, that VR will be the next step of movie evolution after 3D. Oculus (now Meta), the first company that made VR popular, has its own Oculus Story Studio, which has already created the first VR movies.
Their most current project is VR series Space Explorers: The ISS Experience. In collaboration with NASA and TIME Studios, the crew filmed more than 200 hours of footage and 18 hours of interviews with astronauts over the last two years.
VR in Healthcare (AbbVie Virtual)
VR has already become a huge part of healthcare. Nowadays, VR diagnostics are one of the most effective ways to detect diseases and treatment. VR diagnostics can be applied with other kinds of diagnostics, like MRI. Also, virtual reality diagnostics is a great alternative to invasive and surgical procedures.
AbbVie Deutschland with ANIMA RES have created the AbbVie Virtual application, which lets doctors carry out diagnostics using VR technology. A doctor can send a robot to scan and find the main cause of skin disease. Every robot is located in a virtual hangar, you can make an unlimited number of trips to different body types with.
Conclusion
All mentioned programs, applications, and movies are just a small part of what modern VR industry actually is. The number of fields where virtual reality is getting applied is gradually growing every year. The main reason of increasing popularity of VR are constant improving of this technology and the prices for VR equipment that are getting more affordable. Moreover, the use of VR gives a new possibility to look at good old fields from a completely different angle.