Transforming Education, Not Replacing Educators: Unveiling the Power of Extended Reality in Classrooms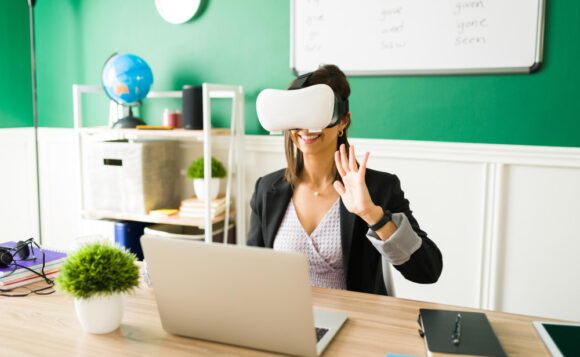 This article was written by our CEO Olga Kryvchenko and originally published on Linkedin. To get more biweekly updates about extended reality, subscribe to Olga's XR Frontiers LinkedIn newsletter.

Hello, LinkedIn readers! Today, I want to dive into an exciting topic that's been rippling through the landscape of education – Extended Reality (XR).
Let's start with a quick clarification. By XR, I mean the whole suite of technologies that include Virtual Reality (VR), Augmented Reality (AR), and Mixed Reality (MR). Each of these has distinct features, but they all share a common goal: to blend the digital world with the real world in meaningful ways.
Now, there's been a lot of buzz lately about how XR is set to replace traditional classroom settings and the teacher's role within it. However, I'd like to gently steer the conversation in a different direction. XR isn't here to replace our beloved teachers but to adjust and enhance the learning process. It's a tool, not a teacher substitute. To help illustrate this, I'll be sharing a few examples from across the YouTube landscape.
First, let's take a look at the CurioXR channel on YouTube. This fantastic platform creates XR educational content that breaks complex topics down into immersive experiences. Take, for example, their interactive lessons on the solar system. Students can walk around the planets, watching as the solar system spins and works in real-time.
Next, let's discuss an impressive use of XR in the field of chemistry. I'd like to direct your attention to this VR Chemistry lessons app showcased on YouTube. Imagine being a student and having the ability to interact with atomic models in 3D, conduct experiments without the risk of dangerous chemicals, and see chemical reactions unfold right before your eyes. It's an extraordinary way to deepen understanding and curiosity. Yet, this too doesn't replace the teacher; it's a tool that provides teachers with a new way to engage students and explain complex chemistry concepts more effectively.
Another great example is the YouTube video 'VR in Education: The Future of Learning,' which explores the benefits of XR in the classroom. It shows how students can dive into history by walking through historical sites or explore human anatomy by stepping inside a larger-than-life human body.
Again, it's not about replacing teachers but augmenting the learning process. XR can transport students to places textbooks cannot and give them firsthand experiences that enhance their understanding. It provides a depth of learning that's hard to achieve with traditional methods alone.
Moreover, XR can accommodate different learning styles better. Some students learn by doing, some by seeing, and others by hearing. With XR, all these needs can be met in one place, making education more inclusive and accessible.
But, despite the promise of XR, it's essential to remember that it's just another tool in our educational arsenal. No technology can replace the human connection, empathy, understanding, and passion a teacher brings to the classroom. The purpose of XR isn't to replace these aspects but to support them.
To conclude, it's clear that XR has enormous potential to transform how we educate. However, this doesn't mean it will replace our teachers. Instead, it's set to work in tandem with traditional learning methods, adjusting the process to make it more engaging, immersive, and effective. Let's look forward to an exciting future where technology and teachers work hand in hand to shape the minds of tomorrow!
If you've had experiences with XR in education or have thoughts on its role in the future of learning, please share in the comments below. It's always great to hear from you!
 Image: Freepik
Related Articles