Tactile Training: Revolutionizing Hazardous Industry Preparation with XR and Haptic Technologies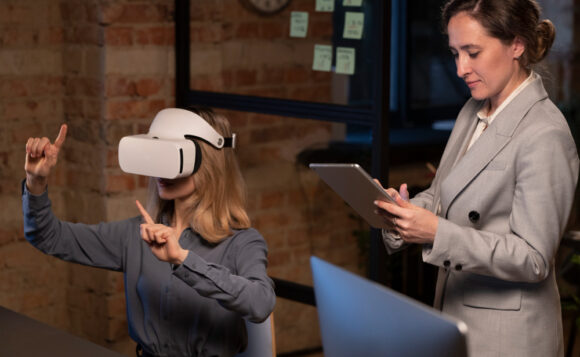 This article was written by our CEO Olga Kryvchenko and originally published on Linkedin. To get more biweekly updates about extended reality, subscribe to Olga's XR Frontiers LinkedIn newsletter.
The power of touch has long been recognized as a potent sensory modality. With the rise of Extended Reality (XR) technologies, touch, or more precisely, haptic feedback, has found its profound significance. Especially in hazardous industries, where direct training poses risks, XR combined with haptic feedback offers a revolutionary approach.
Understanding Haptic Feedback
At its core, haptic feedback simulates the sense of touch and movement. This tactile feedback, when incorporated in digital interfaces or XR environments, provides users with realistic sensations ranging from a gentle breeze to a jolt from a virtual electric shock.
The Evolution of Haptic Devices
While the rudimentary concept of haptic technology revolves around vibrations, contemporary haptic devices offer far more intricate feedback.
– Glove-based Systems: Pioneering the future of touch in XR, these gloves simulate intricate textures, temperatures, and resistances. Users can virtually touch a hot surface or feel the graininess of sand.
– Vest Systems: These aren't your average vests. They're equipped to simulate everything from the impact of a bullet to the gentle tap on the shoulder.
– Treadmills and Platforms: Beyond letting users walk or run in a virtual space, these devices offer gradients, and resistances, and even simulate different terrains.
– Haptic Controllers: These handheld devices can simulate weight, resistance, and more. They're often used in XR setups where precision is required, like machinery operation or surgical training.

Spotlight: Some XR Haptic Innovations
1. Manus Meta Gloves: Advanced haptic gloves that simulate intricate tactile experiences within virtual spaces, ideal for hazardous industry simulations.
2. SenseGlove: Offering unparalleled haptic feedback, this device simulates realistic touch sensations, ensuring authentic training experiences in hazardous industries.
3. Electric Haptic Vest: A revolutionary vest that provides electric haptic feedback, enabling users to feel virtual impacts, touches, and temperature changes, enhancing training realism.
These innovations are setting the benchmark for immersive XR training in high-risk sectors, ensuring both safety and efficacy.
Incorporating Haptics in XR Training for Dangerous Industries
Haptic feedback is not just a fancy addition; it's a necessity in industries where mistakes can be catastrophic.
1. Realistic Hazard Simulation: XR environments equipped with haptic feedback allow trainees to understand and feel dangerous situations, like the rumble of an impending mine collapse or the heat from an electrical malfunction.
2. Skill Refinement: Fine motor skills can be honed in a virtual space. Imagine a trainee learning to operate a chainsaw; with haptic feedback, they can feel the tug, the resistance, and even the vibration, all without the real danger.
3. Emergency Protocols: Virtual emergencies can prepare employees for real-world crises. These drills aren't just visual or auditory; haptic feedback ensures they are physically intuitive.
Looking Ahead: The Future of Haptic XR Training
The fusion of haptic devices and XR promises a future where training for even the most hazardous jobs is thorough, intuitive, and above all, safe. As the fidelity of haptic feedback continues to improve, the line between virtual training and real-world operation will further blur, leading to a workforce that's adept and prepared for any challenges.
In an era dominated by technological advancements, haptic feedback stands out as a game-changer for XR training in dangerous industries. It's not just about seeing or hearing; it's about feeling, and that tactile element ensures that trainees are not only knowledgeable but are also instinctively prepared for real-world scenarios.
Image: Freepik
Related Articles